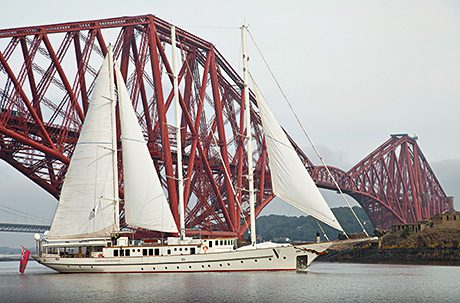 EARLY in the last century the whiskies of John Walker & Sons made their way across the world.
Now the whiskies and brands in the John Walker & Sons portfolio lead global premium whisky sales. And brand owner Diageo reckoned it could honour and highlight those achievements by taking a luxury 1920s-style yacht to some of the world's most important premium whisky markets.
So for the last year the John Walker & Sons Voyager has carried the story of the whiskies and entertained opinion formers in the far east and then in some of the great cities of Europe before heading home to Edinburgh last month, where it hosted a series of events for guests that included many of the company's Scottish employees. To mark the journey Diageo has also released the $1000-a-bottle John Walker & Sons Voyager whisky, a blend of special pockets of three malts. Next journey is likely to be to the Caribbean.
• Glenmorangie is asking whisky enthusiasts to choose the name of a new single malt whisky through online voting. Dr Aonghas Maccoinnich, a teaching fellow in Celtic and Gaelic at the University of Glasgow, will select his preferred three names from all those submitted and translate them into Gaelic. Members of the public then have the opportunity to vote and decide on the final name which will be announced on 16 September.
• Isle of Arran Distillers recently released The Devil's Punch Bowl Chapter II. Named Angels & Devils, it's the second part of what Isle of Arran calls its trinity of ungodly spirits.
• Balblair Highland single malt Scotch whisky will launch three new vintages this October and November – Balblair Vintage 1983, Balblair Vintage 1990 and Balblair Vintage 2003.
• Islay's independent farm distillery, Kilchoman, released the latest edition of its 100% Islay range in July. 100% Islay is the only single malt in Scotland where every stage of the whisky making process, from the barley grown in the surrounding fields to the malting, distillation, maturation and bottling, takes place at the distillery.
• Cutty Sark, distributed by Maxxium UK, has gained a listing as lead blended whisky in The Whisky Shop, the UK's largest whisky specialist retailer.