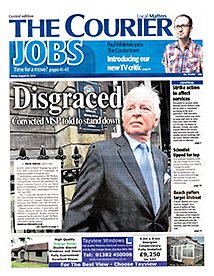 THE Courier newspaper has received a pat on the back from the newsagents' trade body.
When the daily paper launched its new Saturday magazine at the end of August, the price for the Saturday edition went up to 70p. At the same time, the paper announced a pro-rata margin increase for retailers.
National Federation of Retail Newsagents' president, Colin Fletcher, said: "At a time when others in our trade seem hell bent on putting retailers out of business, it is refreshing to find one publisher who understands the need to maintain pro-rata terms so that retailers can keep pace with ever-increasing costs."
But the federation was much less complimentary about the Daily Record. That title's cover price went up while retailer percentages were cut, it claimed.
NFRN chief executive Paul Baxter said: "It was a huge blow to find that in such difficult trading conditions a newspaper group which has previously been so supportive of independent newsagents has decided to increase its price but cut retailers' terms to a miserly 22%."
The Daily Mirror's group sales and marketing director, Neil Jagger, had not responded to letters from the NFRN. However Daily Record editor Allan Rennie did respond. He wrote: "Times are tough and producing our unique Scottish content costs more than the daily regurgitation of showbiz stories in London-based titles such as the Sun, Star and Express."
• Menzies Distribution has announced that it will be increasing carriage charges to retailers by an average 2.97% next month.
However Menzies is dropping the £8.50 surcharge on News UK titles in the areas where News UK previously delivered direct. The NFRN claims the move had been a "direct result" of its pressure on the issue.