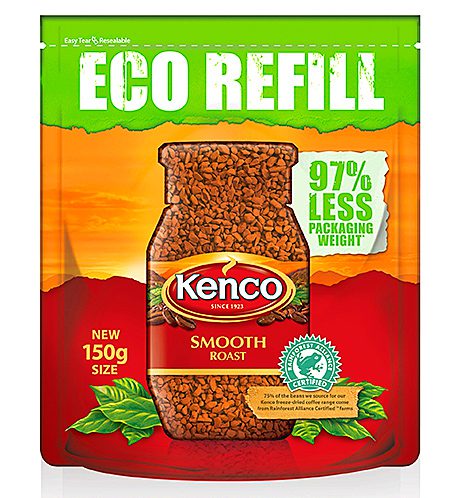 REFILL packs have helped Kenco – one of the first coffee brands to be made with 100% Rainforest Alliance beans – improve its environmental credentials.
Kenco Rich and Kenco Smooth Eco Refill packs now have a total value of £9.1m – more than £1m in impulse – according to Nielsen, says brand owner Mondelez International.
The 150g packs have 97% less packaging weight than Kenco jars per gram of coffee. Also the RRP is less per gram than the RRP of 100g and 200g jars.
Another Mondelez brand, Cadbury's Dairy Milk, is the world's biggest buyer of Fairtrade cocoa beans. Worth £429m – that's up 2.7% in value on last year according to Nielsen – Mondelez says Fairtrade certification has been a supporting factor.
Image – Above, Kenco's Eco Refill packs are now worth £9.1m. Below, Cadbury Hot Chocolate – a Fairtrade cocoa product.