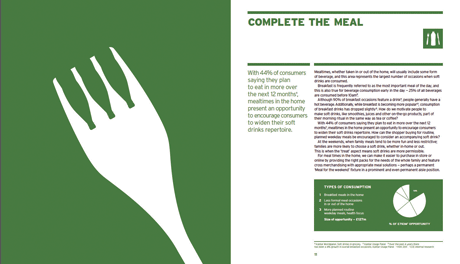 CCE research finds a single extra drink per household per week would see values jump by almost £800m
RECENT years have been good for soft drinks sales in Britain, give or take a wet summer or two. The sector's worth £11bn. But the future is set to be better still if manufacturers and retailers can build on the underlying trends towards growth and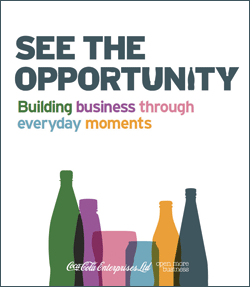 encourage each of Britain's households to consume one more soft drink each week.
That's the view of soft drinks giant Coca-Cola Enterprises, revealed when it launched its new "See the Opportunity" report recently at its new offices in Uxbridge on the outskirts of London.
The company's new UK HQ features a host of virtual reality facilities where it can train on merchandising initiatives and examine the effect of changes to the space and planning of soft drinks displays. But outside the mother ship CCE has also been busy examining social trends and talking to consumers. It's goal has been simple … to predict the future.
What it found – in a two-year, £2m study designed to provide the info for a five-year blueprint and now distilled into its newly launched "See the Opportunity" report – was that the value of soft drinks sales was likely to grow by round £1.3bn over the next five years by natural causes – largely population growth and price inflation. But it argues that all those involved in the soft dirnks supply chain could add a further £793m if they worked together to understand consumer use of soft drinks and supply products that meet demand at a wide variety of soft drink 'moments'.
For its part CCE promises to engage more with its customers – wholesalers and retailers – and "create more collaborative customer relationships to build long-term growth strategies". Some of that comes from work at the new research and modelling facilities. But at the heart of its ambitions for category growth is its identification of what it sees as the "key opportunity areas" … the "moments" .
It titles the first "Complete the Meal", which it reckons could provide £127m worth of extra sales a year. Some 44% of consumers say they plan to stay in more often, the firm notes. But it's not just a question of increasing big-night-in sales there is also scope at breakfast, it reckons, and different types of meals provide opportunities for healthy soft drinks, indulgent drinks and other products.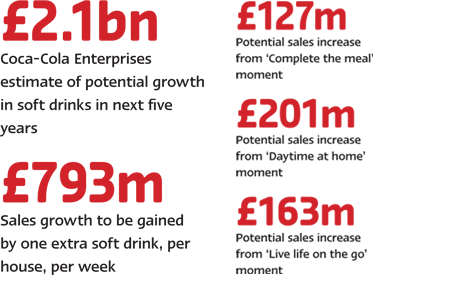 "Daytime at Home" drinking occasions are most often served by hot drinks and tap water at present but a variety of healthy and refreshing soft drinks could be targeted at that moment and could, reckons CCE, release £201m of extra sales. "Better Working Day" moments could be worth £173m, "Live Life on the Go" could provide additional sales of £163m, "Best Social Mix" moments could release £52m, and extra soft drinks sales for "Ready to Relax" moments could be worth £76m.
www.cokecce.co.uk/see-the-opportunity/see-the-opportunity-report.aspx