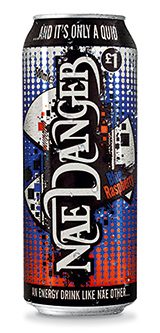 IT may have started out as a bit of a laugh (Ross Gourlay, MD of distribution firm Glencrest thought it would be a good name for a Scottish product) but new brand Nae Danger is now a serious player in the most dynamic section of the Scottish soft drinks market – energy drinks.
The original product – blue raspberry 500ml, price-marked at a £1 – has blossomed into a Nae Danger range that has seen the launch of Nae Danger sports drink, a Nae Sugar version – sugar-free as the name suggests – and an original energy flavour drink. And there's more than one size too. The Nae Danger original energy flavour was released in a 250ml pack with a price mark of 69p.
The Scottish energy drink has been backed by extensive marketing support including radio ads and new media work.