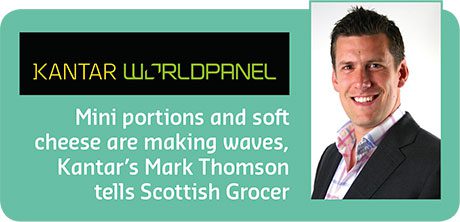 IN a sandwich, toasted under the grill or grated on top of pasta, cheddar remains the most popular type of cheese in Britain, accounting for 55% of every penny spent by cheese shoppers.
And Scottish consumers, who spent £252m last year on cheese (2.4% more than the year before), stick with familiar labels. Branded products account for half of all spend in the category, compared to 46% across GB. And branded cheese's share is still growing in Scotland, while across GB it dropped by 2.2%.
"This means that Scotland offers greater opportunity at the moment for branded manufacturers as they look to grow," said Kantar Worldpanel business unit director Mark Thomson. "This links in with local emerging brands within the category such as Graham's which has just launched its own range."
Cheese mini-portions only account for 3.1% of spend in the category, but sales are up 16% on the previous year. Soft white cheese, which takes 9.4% of spend, is up by 7%.
Promotions are also important to cheese sales. Some 40% of cheese is bought on promotion, with 26% of spend specifically linked to a price reduction.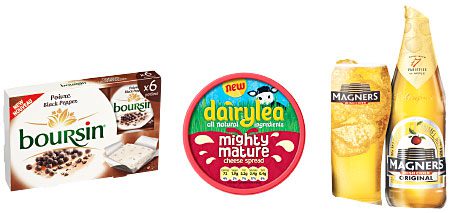 • Mondelez International says its brand Philadelphia is the biggest seller in soft white cheese, with a market share measured by Nielsen at 15.2%. And recently the brand owner has extended the Philadelphia range. In May it introduced pouches of stir-in sauce intended to appeal to shoppers buying components of a "meal for tonight".
Its Dairylea range has recently added two flavours, Mighty Mature and Springy Onion.
• Bel is also promoting its flavoured soft cheese, Boursin, as a cooking ingredient. A new series of recipes, developed by Celebrity Masterchef winner Lisa Faulkner, looks beyond the biggest-selling Boursin, the Garlic and Herb variety, and pushes its other flavours – Tomato, Onion and Chive; Shallot and Chive; and Black Pepper.
• Scottish dairy company, Graham's, has launched a new range of cheddar – the Bridge of Allen-based company's first new product since its spreadable butter. Sold in 200g and 350g re-sealable packs, the cheese's stockists include Spar, Margiotta, Sainsbury's, Asda and Tesco.
Images – Boursin is pushing its different flavours with a range of Lisa Faulkner recipes; Dairylea's triangles have an expanded flavour range; Philadelphia's Simply Stir sauces offer an option to shoppers looking for tonight's tea.