Britain's sales and marketing professionals explain how they see the convenience scene
This issue: Matt Goddard, head of impulse field sales at Pepsico
Matt Goddard joined Walkers, Quaker and Tropicana brand owner Pepsico in a role in the impulse channel 10 years ago – selling Walkers snacks to wholesalers in England's West Midlands.
After a number of posts, including working with multiple grocery accounts, he's now back in the impulse channel leading the company's impulse field sales team.
Pepsico has been increasing its salesforce in the impulse channel and has plans to speak to 12,000 more independent retailers in the coming year.
Matt says that in his 10 years with the company he hadn't seen a marketing calendar that was as focused on impulse outlets as the current schedule.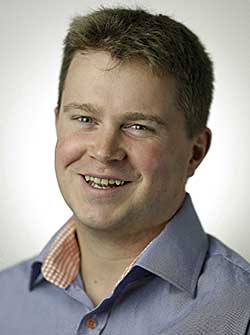 PepsiCo owns brands in several categories. Have you seen especially positive growth in convenience in any particular category or with any particular brands?
A key success for us has been the growth of Quaker Oats. Within convenience in particular, the Quaker Oat So Simple Pots innovation continues to go from strength to strength. The format makes eating oats even easier for people who live busy lifestyles. Retailers have made the most of this by creating breakfast meal deals linked with Tropicana. They've also been merchandising the product within fridges on our clipstrips, in addition to making it a staple on the cereals fixture.
Do you think convenience retailers understand the relevance of your various products to the c-store channel?
Yes, on the whole, but there is always an opportunity to help those who don't, which is why speaking through the trade press is important, as is the fact that we have doubled the size of the field sales force over the last two years to physically speak to more retailers than ever before.
How different is convenience compared to the multiples in the categories where you have brands? Do you offer largely different pack sizes and formats, for example?
We spoke about the on-pack promotion for Tropicana Pure Premium. This has been a great focus for us in 330ml single-serve bottles in the impulse channel, but you will also find the promotion running on the four-pack multipacks in the multiples.
You have been adding to the sales force and you also provide merchandising support to retailers with impulse outlets. How has that been going?
We are getting great feedback from retailers who had previously not received a visit from us.
We know you are very interested in merchandising by occasion and by day parts? How important do you think those aspects of merchandising are? And do you think retailers are taking such thinking on board?
It's not important for every retailer. There is no one size fits all however getting the basics right, such as stocking best-selling brands is a great place to start. Once the basics are right, getting promotions such as breakfast and lunch meal deals and big-night-in offers established will be much easier.
You've launched some interesting PMP activity recently. What was your thinking behind that? How is it going for you? How do see the wider question of PMPs and value consciousness among consumers at present?
Price-marked packs are known in the trade to give shoppers confidence that they are getting good value for money and consequently they are something our impulse customers and buyers are asking for.
Across those retailers, PMPs are now the second-most preferred form of promotion, indicating that it's buyer demand that's driving the increase in this form of promotion. Research has shown 44% of consumers are more likely to purchase an item on impulse when they are price-marked.
We continue to make strong investment in this activity and encourage retailers to stock up on the PMPs that are available.
What do you see as the most important current trends?
We know that there are key occasions throughout the day which present retailers with a great opportunity to drive sales. We continue to work with our customers to make the most of these opportunities:
One is breakfast. With 55% of consumers leaving home without breakfast and one in 10 eating breakfast at their desks, breakfast on the go presents a significant sales opportunity.
On-the-go lunch now accounts for a third of all food-to-go occasions. Retailers can make sure they get their bite of the lunchtime profits by communicating value through offering meal deals.
It is really important to use POS to highlight these deals in-store.
Matt Goddard is head of impulse field sales at Pepsico