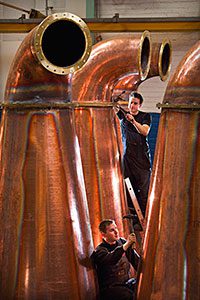 DRINKS giant Diageo says it will invest £1bn in its whisky operation over the next five years.
The company, which has Bell's, Johnnie Walker, J&B, and a huge collection of malts in its portfolio, is said to be benefitting from an international boom in premium spirits sales.
Over the past 12 months, the Diageo's coppersmithing company, Alloa-based Abercrombie, has worked on more than 30 stills to help meet the demand. It has just completed installing new stills at both Linkwood and Mannochmore distilleries and is working on the expansion programme at the Glen Ord distillery in the Highlands.
Charlie King, operations manager at Diageo Abercrombie, said: "Copper is absolutely crucial to the process of making Scotch whisky and with the rising demand for our Scotch brands around the world and the major investment Diageo is making here in Scotland, we are enjoying one of the busiest periods we've ever seen.
"I'm particularly pleased that the growth in the industry is allowing us to take on young people as apprentices and to train them up in this traditional craft," he added.