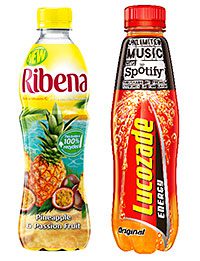 PHARMACEUTICALS giant GlaxoSmithKline has put its drinks brands Ribena and Lucozade up for sale to concentrate on its core business.
Global sales of Ribena grew by 2% in the first three months of this year. Lucozade fell 2% over the same period, with sales in Europe dropping by 7%.
Both drinks were owned by Beecham prior to its merger with SmithKline in 1989. Lucozade was invented as a health drink in 1927 while Ribena was created a decade later and given as a vitamin tonic during the war.
No buyer has publicly come forward for the two brands, valued by some at £1bn. Japanese group Suntory, which bought Orangina in 2009, has previously been mentioned as a potential purchaser.