As consumers shop more locally and for smaller amounts homecare and laundry has become a top-up and one-stop-shop c-store essential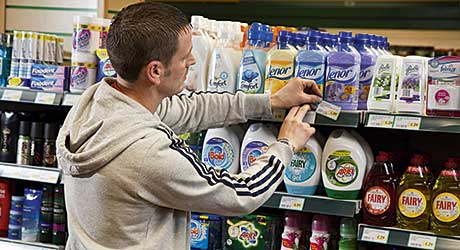 C-STORES have become essential to more people, and for more things, since the country's current economic woes began.
As consumers cut down on visits to the giant supermarkets and discovered that the shop on the corner was actually very handy it gave c-stores the opportunity to develop sales in product categories that defined their role as a one stop shop.
Laundry is one of those categories.
It's in growth and is currently worth £98m in the convenience market, says brand giant P&G. It sees it as divided into three main subcategories – detergents, worth 75m, fabric conditioners worth £20m, and additives worth £3m.
The average laundry category shopper, says P&G, visits their local convenience store 3.6 times a week and spends £10.90 on a typical trip. That compares to the overall c-store average where the shopper spends £5.63 per trip and visits 2.6 times per week.
A number of the main suppliers provide category management advice. P&G's service includes its online advice site dedicated to c-stores – shelfhelp.co.uk
The firm's top tips include:
• The laundry category offers many options for consumers – merchandising products by format allows them to find their way round the display more easily
• Stocking brand leaders in each sub-category helps shoppers quickly identify the product they need
• Availability is the primary concern in the category so retailers should make sure shelves are kept full and are clearly labelled.
Unilever says the fastest growing segment in the laundry category is fabric conditioning, which is growing at 5.3% and has contributed £18m in the past year.
It suggests trust in established brands is important to laundry consumers. It also sees long-lasting fragrance as a key consideration for shoppers who look for interesting scents to keep their clothes smelling fresh for longer.