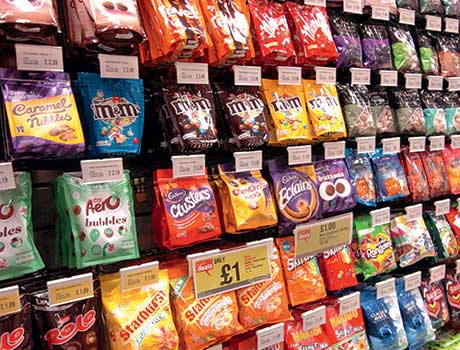 Sales of bagged sweets are soaring. Are you getting your share of sharing sizes?
BAGS of sweets have certainly moved on from the quarters of pan drops that grandmothers once magically produced to keep children quiet in church.
Today there are traditional boilings, chewy foam and jelly novelties, eye-wateringly sour flavours and bitesized versions of familiar chocolate bars. The bags have migrated well beyond their traditional markets in the foyer of cinemas and theatres, and are now popular for car journeys, for big nights in, and for any other occasion that could be improved by a whole lot of crunchy, raisiny, chocolately, foamy or gummy nibbles.
According to Mark Walker, sales director at Swizzels Matlow, quoting Nielsen figures: "Sugar confectionery remains buoyant and has grown by 6.7% in value and 2.4% in volume year-on-year. Hanging bags are growing by 13% year-on-year, indicating the trend for larger sharing bags.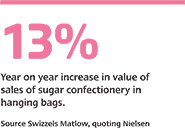 "The gums and jellies market has continued to grow by 6% year-on-year in value and now accounts for almost 50% of children's confectionery sales."
In a bid to take advantage of the trend, Swizzels has created Squashies: its Love Hearts, Drumstick lollies, Double lollies and New Refreshers transformed into a softer gum version. With the strapline 'original favourites squashified', they're available in 160g bags as well as a 45g countline.
The originals are still hanging on in there and Walker reports that larger mixed packs – Bumper Bag, Lots of Lollies and Chew Crew – are popular with families. "They offer well-loved brands and variety; the individually wrapped products are great for sharing with family or groups of friends."
The company has also moved into licensed confectionery, matching Love Hearts with boy band One Direction. Walker explained: "Our fans came up with 1D messages and icons to feature on sweets and the range has been a great success." On the website, consumers can see their own 1D Love Hearts messages go into production and win a VIP factory tour to see them being made."
The Moshi Monsters range has been a licensing triumph for Bazooka Candy Brands. The original 45g bags were launched in January 2012. They now come in 120g and 160g packs as well. The latest addition to the range, Moshi Monsters Sour Gummies, comes in 45g and 120g formats.

In fact the company described bags sized 60g and above as "the format of the moment". According to Mintel, such packs account for the largest share of the sugar confectionery market with a 44% share by value and 60% share by volume.
Nielsen reports that, over the past 12 months, bagged confectionery has generated over £221m in retail sales – a year-on-year increase of 8.2%
A Bazooka spokesperson said: "This substantial growth can be explained by the continuing popularity of gummies and chews, but it's also worth noting that sales of bagged lollipops have increased too.
"Consumers want as much bang for their buck as possible but they don't want to compromise on quality."
The search for value means that multi-packs also prospered in 2012, growing 18.2% according to Mintel. "This isn't surprising with the added value these packs deliver."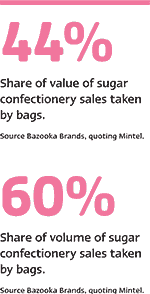 Everyone, the spokesperson continued, wants to bag a piece of the pouch market. "Bagged sugar confectionery faces strong competition from chocolate and even biscuit and cake brands as they introduce sharing bags and tubs to put further pressure on the sector."
One future development could be zip-lock style fastenings. Mintel says they could make pouches and bags easier to carry, and encourage more people to eat sweets on the go. "Accessibility, value and quality will continue to be driving forces in the development of bagged confectionery – something Bazooka Candy is watching closely."
Jonathan Summerley, Hancocks purchasing director, is also finding the markeplace crowded. "The main trend has been for everyone to get into the growing bagged confectionery market and grab their share," he said. "Often pitched as the better-value option and clearly offering convenience, all ages and profiles of shopper are buying into bagged confectionery to some extent."
A smartly-packaged range works well for Hancocks. "Share Bag is a competitively-priced range of bagged favourites which look the part and are very tempting at just £1 a bag." A bespoke Hancocks stand is also available to ensure a prominent display.
He said: "We have a long-standing three-for-99p range of popular children's sweets in bags that can also be retailed at 39p each. These are great for both portion control and pocket-money purchases."
One Pounders, Greenock-based sweet manufacturer Golden Casket's hanging bag brand, changed its name from Half Pounders last year. (Half a pound referred to the weight of the bag, the new name is all about the price.) The 70-plus range includes old-school boilings such as glucose barley sugar, mint humbugs and soor plooms, as well as versions of big brand favourites such as milk chocolate with crunchy bits and milk chocolate buttons.
One Pounders, which are only available to private retailers, had a three-week TV advertising push last month.
Cadbury's Crispello chocolate bag, launched in March, is a new take on hanging bags.
The 120g bag contains 12 individually wrapped wafer shells with a creamy centre, all covered in Cadbury milk chocolate.
Cadbury's owner Mondelez International already has a heavy presence in the chocolate bags category, which Nielsen values at £367m, and which is growing at15.9% year on year.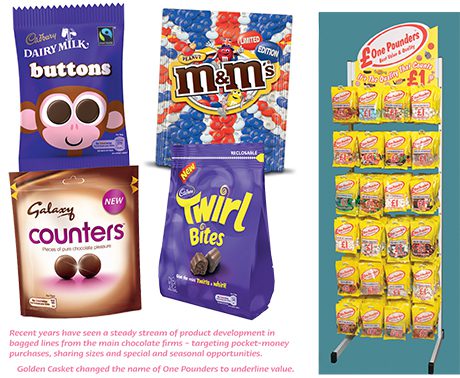 Susan Nash, trade communications manager at Mondelez International quoted Nielsen figures and said: "Bitsa Wispa, launched in March 2012, has been hugely successful and enjoyed sales of £4.2m in its first six weeks in market.
"Sharing bags perform well because they attract a variety of different shoppers and the Cadbury-branded bags have something to suit an array of different tastes."
Mondelez's introduction of Caramel Nibbles and Crunchie Rocks in the pouch format, she added, "brought different consumers to the brand and increased total bitesize penetration."
The newcomers joined a Cadbury-branded bitesize range that includes Clusters, Cadbury Raisins, Cadbury Peanuts, Dairy Milk Giant Buttons and Twirl Bites.
"Twirl Bites and Bitsa Wispa have increased this consumer appetite further and we expect sharing bags to be every bit as important to the success of the chocolate category next year as it has been in this."
For Mars, bags of bitesize goodies are also growing in importance. Bep Dhaliwal, trade communications manager at Mars, said: "The last five years have seen remarkable growth for bitesize, which has increased by 7.7%, to become one of most important categories for retailers.
"With 70% of chocolate consumed in the company of others, families and friends are getting together and looking for the perfect products to share."
The format allows brands that are individual treats to extend their reach into the market. Mars Mix, for example, takes the caramel and nougat from the bars, covers it in milk chocolate and turns the Mars Bar into a bag of shareable treats.
Display and positioning are, she added, crucial. "By siting key items in prominent places throughout the store and drawing consumer attention with eye-catching displays, retailers can make the most of this thriving category."
"In 2012, sales of sharing bag pouches increased by 27% and what's more, 31% of people decide to purchase pouch confectionery after seeing it in-store, cementing its position as an impulsive segment."
[hr_dotted]
In the store
Mohammed Asif, owner of Spar Forfar and Scottish Grocer Confectionery Retailer of the Year 2013
• Large range of confectionery hanging bags in several positions around the store
• Sells minimum of 10 cases of 99p Family Favourites a week
• Customers buy them as a family treat at home and also to eat as a snack in the car
[hr_dotted]
• Traditional sweets do well as do newer styles and sour sweets