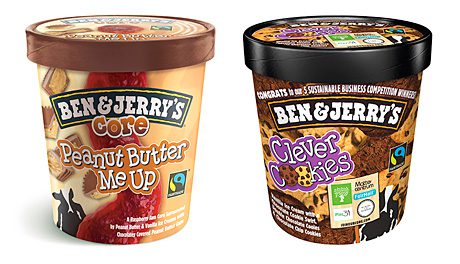 DESPITE the continuing recession and the terrible weather at the start of the year, demand for ice cream refuses to die. The total market in the UK is worth over £923m, up 3.9% year on year.
The dining at home trend has been a bonus for luxury products, which are now worth over £157m according to IRI. That's an increase of 12.5% over the last year.
Ben & Jerry's Core – a premium product within its established range – was the biggest launch of 2012 and will receive continued investment throughout 2013, said brand owner Unilever. The group's Carte D'Or joined the luxury market segment with Carte D'Or Signature in September last year, a product it intends to appeal to older consumers.
"The luxury dessert sub-category has grown dramatically over the last year, said Carte D'Or brand manager Florence Howell. "We have carefully chosen innovative flavours aligned with popular desserts to target consumers looking for a sophisticated ice cream. We know that there is a gap in the market to target shoppers over 45."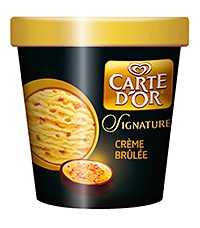 Another recent innovation, Carte D'Or in 200ml tubs, is designed to provide a portion-controlled treat, without the mess of opening a larger package.
Magnum moved into the luxury tub sector last year, building on its strong brand recognition among existing customers.
For customers looking for a healthier option, Unilever launched Wall's Soft Scoop with a Touch of Yogurt last year, reducing the fat content by 33% compared to the standard soft scoop vanilla.
• It's not always easy for a small company to compete with huge brands, or with giant supermarket discounts. But Christina Veal, director at New Forest Ice Cream stressed the need to "maintain ice cream's position as a luxury treat, something not to cut back on", to help maintain market share.
Sales and presentation are also crucial, she said. New Forest offers bespoke product boards, banners, flags and specially designed freezers,from its in-house design team.
• Unilever advises retailers to make sure customers know they stock ice cream, to place the cabinet near the till and other impulse products and to decorate the freezer with eye-catching cabinet stickers, display boards and basket labels.
A clean, tidy freezer is also essential – RMS Instore research shows that 50% of sales are lost due to unappealing cabinets.
Images – Top, Ben & Jerry's Core range generated sales of over £1.7m in its first nine months. The brand's Fairtrade credentials are said to appeal to ethical consumers.