Stores tell Claire Amber Young that shoppers are turning on to traditional treats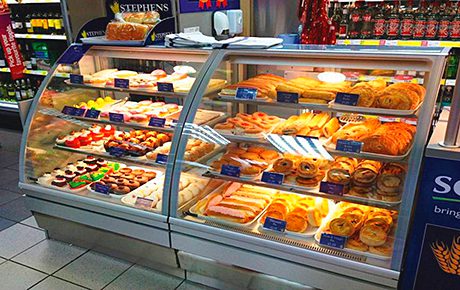 SHOPPERS still want to see well-known biscuit and cake brands but some stores see increasing numbers now also looking for a good selection of fresh cakes from local suppliers.
And to address that growing trend, Scotmid Food has started working with a selection of bakery suppliers to keep stores across Scotland stocked with fresh treats.
Stephen Brown, Scotmid Scottish local sourcing manager, is working with Stephens the Bakers for Scotmid stores in west Lothian, Fife and west Edinburgh, and Dundee bakery Goodfellow & Steven for stores in Mayfield, Gracemount and Gorebridge.
He is also working with Aulds the Bakers for stores in west and central Scotland, starting with Armadale in west Lothian and Clarkston in Glasgow, and with Breadwinners Bakery for selected stores in Edinburgh.
The fresh cakes are displayed in glass fronted counters at tills, and in special areas around the store.
"The tough economic conditions haven't decimated the category – people still think of biscuits and cakes as having the feel-good factor, so they'll keep buying them, even when times are tough," he said.
And he reckons mainstream ambient products can also do well but that retailers should work hard on merchandising and should split the section into several sub-categories – including sweet, savoury, indulgent, everyday and luxury.
l There will always be consumers who stick with their favourite treats, no matter what the price, and increasing numbers of shoppers now want to buy biscuits and cakes regularly, and to buy local, according to Keith Whyte, owner of Mitchells in Inverurie.
The shop produces its own range of cakes, made on the premises, and stocks a range of products from the bakery across the road. Shoppers go for tray-bake style cakes like four-packs of caramel shortcake and chocolate tiffin.
There's a large range of oatcakes, including the Mitchells own-brand oatcake which Whyte says is the bestseller across biscuits, cakes and bakery, accounting for up to a fifth of overall sales. Butter hardies and butter puffs are also popular with Inverurie customers.
But it isn't all about treats, Whyte said. He plans to increase the store's range of gluten-free products, and says booming oatcake sales shows consumers are looking for healthier alternatives.
Bruce and Donna Morgan at Best-one outlet Brownlie's in the Lanarkshire town of Biggar have been working with a local biscuit and cake supplier, and Bruce says the cakes, which include Border tarts, sponges and tray bakes, have been going down a storm. The cakes are delivered on a Thursday, and sell very well in the run-up to the weekend.
The bestseller in biscuits and cakes in Brownlie's is the Selkirk bannock, a kind of raisin bread. There are also products from Nevis bakery, Cobbs cakes including individual date slices and Empire biscuits, and a selection from Fife Creamery.
Bakery products from Country Choice, like doughnuts, Danish pastries, and maple pecan slices are displayed next to the hot-drinks-to-go section.
A number of branded biscuits also do well, Bruce said. The store carries a large selection of Walkers and Border Biscuits packs and boxes, including sharing boxes and gift packs.
Not all shoppers in Biggar are worried about price, he said, and premium and speciality biscuits sell well but, on the other hand, there are shoppers who do look for promotions. Price marked-packs on mid-price, well-known brands, for example McVitie's marked at £1.19 on offer for two for £1.50, sell well at Brownlie's.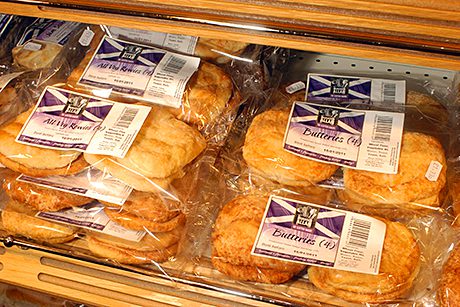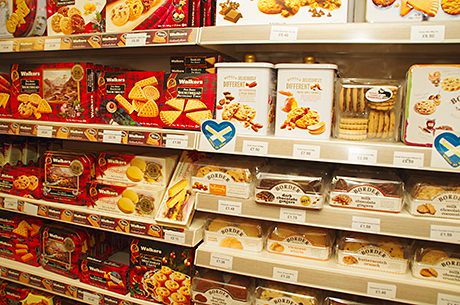 Images – Top, Fresh cakes in the Scotmid store in Carrick Knowe in the west of Edinburgh. Scotmid is working with a selection of local bakery suppliers to put more fresh cakes into stores across Scotland. Above, Mitchells of Inverurie shoppers like to see local bakery specialities like butteries on shelf, left. The store also has its own-brand range of biscuits and cakes. The Walkers and Border Biscuits display at Brownlie's in Biggar, right. The gifting and sharing packs are popular with shoppers all year round, according to owner-manager Bruce Morgan.