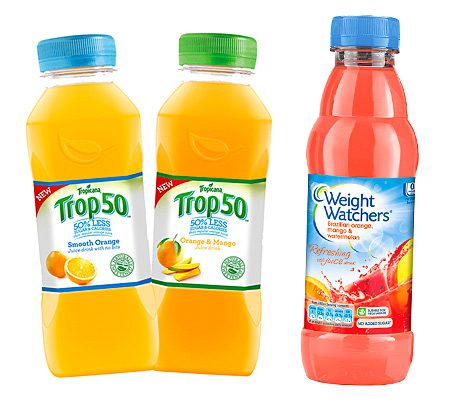 IN tough economic times, consumers may become less concerned about healthy products, but lines whose sales remain resilient, those which consumers still choose to buy, are those which can be used by all the family and offer taste and practical benefits – like lower sugar and diet drinks. That's the view of James Logan, commercial director, Gerber Juice Company.
The Del Monte Naturally Light range of drinks, part of the Gerber Juice Company portfolio, was named soft drink of the year at the annual Product of the Year awards.
The product is made with stevia, with sugar reduced by 50%, and is available in three flavours – Mango and Papaya, Pineapple and Lime, and Super Fruits. Each serving provides 100% of the recommended daily allowance of vitamin C and 50% of the RDA of vitamins B and E, and of selenium.
Pepsico's Trop50 brand, developed from Tropicana, is a mixture of Tropicana Pure Premium, not-from-concentrate juice and water sweetened with an extract of stevia leaf.
A glass of Trop50 provides 100% of the recommended daily allowance of vitamin C and contains 50% less calories than Tropicana. Trop50 is available in Orange Smooth, and Orange & Mango in 330ml bottles, RRP £1.19, and in Orange with Juicy Bits, Apple, and Pomegranate & Blueberry in a one-litre take home size, RRP £2.29.
Vimto Soft Drinks marketing manager, Emma Hunt said Kantar data to 10 June 2012, showed the low-calorie drinks category to be worth £2.3bn. However, some health-conscious consumers find it difficult to drink healthily "on the go" and she anticipates a rise in availability and popularity of products aimed at such consumers.
Vimto plans to back the Weight Watchers 500ml soft drinks range this summer with marketing activity.
Vimto Soft Drinks' Weight Watchers 500ml still fruit drink is available in Brazilian orange, mango and watermelon flavour.
"Flavoured water products and soft drinks such as our Weight Watchers range will cause shoppers to trade up as they look for exciting but healthy alternatives to plain water," said Hunt.
Coconut water has become more popular with consumers looking for "better for you" products in recent years, according to Jag Singh, brand manager at Tropical Sun Foods. The Tropical Sun range of coconut water includes a 330ml pack with real coconut pieces, a 520ml with real coconut pieces, a 330ml-sized 100% natural coconut water, and a 330ml coconut water with lime product.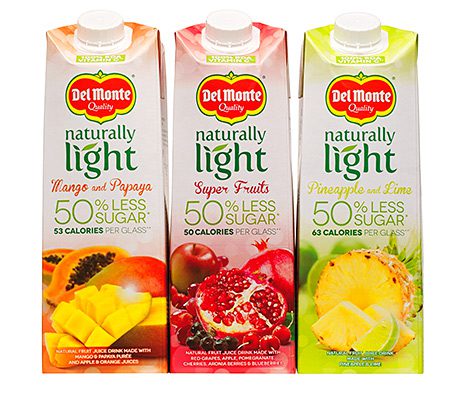 Images – Top, Pepsico recently introduced Trop50, developed from its Tropicana brand. Vimto Soft Drinks says its Weight Watchers 500ml bottle is ideal for consumers looking for a healthy drink to go. Above, Del Monte Naturally Light was recently named soft drink of the year.