Keep social life more affordable with PMPs, says Tayto
COSTS are still going up while the temperature is dropping down, pushing more consumers to choose a night in the house with their friends instead of a night on the town.
Norstat data from June this year has found that one in four people have chosen to socialise with friends or family in the house. And as the colder nights creep in, the temptation to stay wrapped up on the couch will be stronger.
The Tayto Group reckons that convenience retailers stand to benefit here from those swapping to a social evening in the comfort of their own homes by offering a better value option across snacks.
Price-marked packs (PMPs) are the proven way that independent retailers can help to display this value directly to their shoppers, according to Tayto, helping to increase sales for the format across the channel.
Matt Smith, marketing director for Tayto Group, said: "Value for money is now the third most important reason for snacks purchase – after flavour and quality – with over 90% agreeing that value for
money is important.
"However, convenience shoppers worry that they will pay more for shopping locally and PMPs give them confidence that they are not being ripped off. That's why PMPs have increased to 75% of snacks sales in symbols and independents."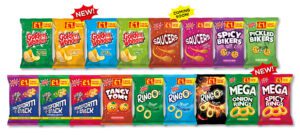 Tayto said that the £1 price point for sharing packs remains instrumental to the recent success for its Golden Wonder crisps brand, noting that it has been the main driver of category growth with a rate that has been twice as fast as the overall market.
This affordable price point has been a key driver for impulse purchases, as well, according to Tayto, and ensuring that retailers hit these key price points across the store will pay dividends for retailers.
According to research by Norstat, 50p remains the number one price point for consumers looking for a bag of snacks just for themselves.
Therefore, stocking up on a strong range of PMP single packs will be important to driving up impulse sales such as Golden Wonder's range of 'Fun Snacks' – including Spicy Bikers, Barbecue Strikers and Transform-A-Snack.
Smith said: "With consumers' focus on value, it's important to stock a strong range of entry-point and mid-tier (50p-69p) snacks.
"We've sold over 21million entry-point PMP Fun Snacks – Tangy Toms, Spicy Bikers, Awesome Oinks and Strikers – growing our share from 25% to 37%, as these packs offer exceptional value with their 35p/ two for 60 on-pack offer."