Soopa new caffeinated option from Hooch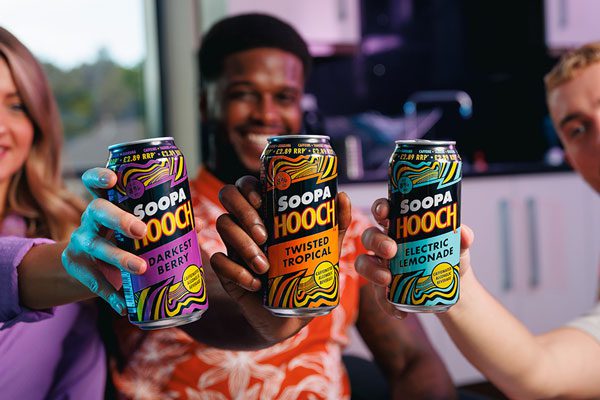 ALCOHOLIC lemonade brand Hooch has unveiled an all-new enhanced RTD range, Soopa Hooch, which it reckons is set to take the UK by storm. 
Bosses for the Global Brands label claim the newcomer, with an ABV of 8%, delivers the same great taste with extra zing.
Caffeinated and including taurine and guarana, Soopa Hooch is described as "a party starter like no other". It comes in an easy-drinking 440ml can, offering "great value" at £2.89. 
The range is available in three "exciting and on-trend" flavours.
Soopa Hooch Electric Lemonade is said to take the OG Hooch lemon to the next level, pushing the much-loved 90s citrus flavour to the max as it "buzzes with orange, lemon and lime" to provide "electric flavour".
Soopa Hooch Darkest Berry combines the bold flavours of juicy dark berries with the zing of classic lemon for a daring take on a late-night favourite, says maker Global Brands. 
Meanwhile, Soopa Hooch Twisted Tropical "takes you to a fruity paradise of easy-going sunny days and pure holiday vibes – orange sunshine and pineapple-filled skies".
The new range is said to feature a smooth, crisp vodka spirit base and 32mg of caffeine per 100ml.
Hooch is supporting the launch with a range of eye-catching wholesale displays, including bollard covers, standees, pallet wraps and aisle fins.

 
For a limited time only, retailers can order free point-of-sale kits to aid visibility in store, through the Soopa Hooch displays in wholesalers, or online via QR codes found on inserts in the 8x440ml cartons. 
The launch comes as the enhanced RTD category is experiencing huge growth, increasing 25.5% year on year.
The convenience channel is also growing in the wider RTD category, with consumers increasing their frequency of purchase of RTDs in convenience by 27.7%, according to Nielsen data. 
Charlie Leaver, head of brand at Global Brands: "As a leading traditional RTD brand, Hooch has great brand recognition and an audience ranging from new consumers through to shoppers that know and love the brand from the 90s. 
"We can't wait to add value to the enhanced RTD category with an easily recognisable and innovative brand. The appeal and recognition of Hooch is set to shake-up an already high-growth area of RTDs. 
"As the biggest supplier of packaged cocktails to the off-trade, Global Brands looks forward to elevating the enhanced RTD category with our innovation and expertise." 
Earlier this summer, Hooch launched Blue Hooch 440ml cans. 
It aims to tap into the huge blue drinks trend, which includes popular party starters such as VK Blue, while "keeping the zesty flavours and nostalgia that Hooch fans know and love".