Symbol Store of the Year (Single) winner – Spar Renfrew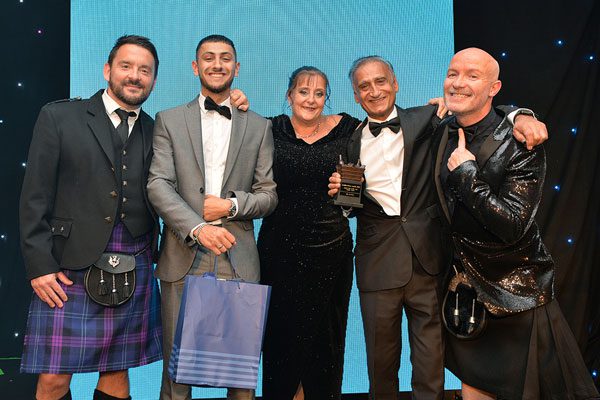 Winner details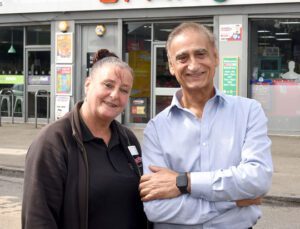 Interview with Saleem Sadiq, store owner, and Angie Gibson, store manager.
Staff: 25 members
Symbol: Spar
Services: Lottery, PayPoint, F'real, Tango Ice Blast, Costa Coffee, hot food to go, in-store cafe, various parcel collection services, Jisp, Snappy Shopper
• The Spar family concept remains strong across this store with family members working together here as staff are drawn from across different families in the local area.
• This local aspect has paid off well for the store, too, helping to create a friendly image as well as known faces for customers – ones that have helped build up loyalty and ensure shoppers still flock to the store over its competitors.
• Certainly no stranger to winning, Spar Renfrew has picked up a fair number of gongs over the years at the Scottish Grocer Awards, with Saleem winning the Industry Achievement Award in 2016.
• The store makes use of plenty of Spar benefits, including the new Mr Beast chocolate bars.
Symbol Store of the Year (Single) – supported by Barr Soft Drinks
Playing the right notes for symbol
KNOWING when a symbol is the right fit for your store pays dividends for retailers.
This is more than the case for the team at Spar Renfrew, who exemplify the strengths the fascia carries and use some savvy retailing to ensure these positives are put to good use in the store.
Spar benefits can be seen across this store, from a strong selection of stock coming from consistent deliveries to unique items not found in other c-stores, such as the Mr Beast Feastable chocolate bars that included the new Spin to Win promotion to support the launch.
It should come as no surprise, then, that Saleem Sadiq, store owner for Spar Renfrew, had nothing but praise for the Spar standards.
He said: "I truly believe that I already have the Mercedes of the symbol groups.
"I think it's the best symbol that's available to retailers. There is so much knowledge that gets shared between the Spar family, whether that be at the local level in Scotland or UK-wide.
"If I were to open another store tomorrow, then I wouldn't think twice, it would have to be Spar."
It would be safe to say that if Saleem did open another store tomorrow then the local community there would stand to benefit.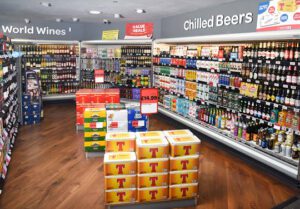 A smart approach to retailing and a respect for the local community in Spar Renfrew has ensured that plenty of consumers continue to return to the store, building up strong relationships in the process and loyalty to the shop.
The local population clearly show their appreciation of the hard work that the team put in here, with loyalty to the store an important factor for many of its customers.
Following the opening of a competing store, Spar Renfrew not only retained its customers but proved its investment into the community would be returned with loyalty working both ways in this Spar.
Saleem said: "When the other store opened, we were told we could lose anything up to 40% in sales but in six weeks after this, we were actually trading about 7% above what we were doing before the rival opened.
"We've always held on to that and it shows that our customers are loyal."
On this, Angie Gibson, store manager, said: "We've got customers that will come to our store about five or six times a day and that can be every day, too.
"But it's about remaining loyal to customers as well. For example, we've got customers that are unfit or unwell and struggle to come to the store, so we look at if we have any way to deliver out to them and how we can fix this for them.
"In these cases, then, the customer can give us a phone and we can take a note of what they are looking for and make sure they can still get all their shopping done that way."
Saleem has also continued investing into the store to ensure it remains fresh for customers but also helps out his own staff members and improves the overall workflow for the employees.
Making use of the new electronic shelf edge labels that Spar Scotland has been rolling out across its estate lately, Saleem invested in the new tech – much to everyone's benefit.
He said: "I am always looking for new ways to help streamline the store and make it more efficient.
"When we first opened this store, we made the move to invest in an EPOS system, although they were very expensive in those days, and we saw massive benefits coming from this.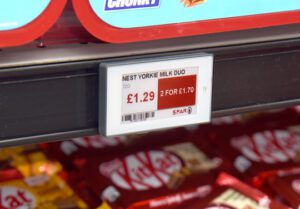 "I think the new electronic shelf edge labels have been the next best thing that have come about for us.
"We no longer need to print labels. I remember we used to sometimes have to print over 600 labels to roll them out while the promotion was on and make sure they came back off when it finished.
"Like before, we knew it would be very expensive but, for me, it has been worth every penny and it has paid for itself."
Angie echoed these sentiments as well, mentioning the time that can now be saved during busier periods like Christmas when every day can bring a new deal and promotion with it.
She said: "You can watch them all changing at once. During Christmas, we have the 12 Deals of Christmas promotion that sees new deals being introduced every day and, with this, we'll save on a lot of time from getting the new labels printed and out across the store.
"it could take hours just to do promotions for one category but now it's immediate and done by Spar, so we can focus more on the shop itself."
A forward-thinking mindset for the store and an eye to the future of where it could go has ensured Spar Renfrew remains one of the strongest under the symbol, as well as a landmark store for Scotland's convenience channel.
Always looking to the horizon, Saleem talked about a new refit coming soon for the Renfrew store ensuring that the new look will be fit for purpose.
He said: "We'll be looking to come up with a new, unique design for the store and make sure that it works best for us.
"We're a busy store here and, with this, we're also very profitable. So when it comes to a refit, you don't want to make the mistake that could change this and cause the exact opposite to happen.
"That means we will take our time to make sure that we've got a refit that's right for us and is right to suit our customers here, too."