Belhaven sets up mini golf course inspired by the Brewery's iconic home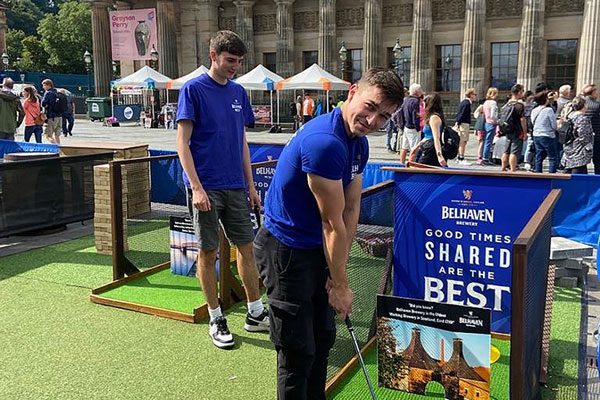 EDINBURGH Fringe drinkers are being challenged to ready their golf game this year as Belhaven Brewery brings mini golf to its Fringe pop up bar.
Anyone that buys a drink from the brewer's city centre pop-up bar, Belhaven Bar on the Mound, can access the grassy games enclosure next to it where they can take on two mini-golf holes.
First up in the challenge is The Chimney, inspired by Belhaven's famous malting chimneys which are still standing at its brewery site, the firm said this makes for a tough obstacle even for the most confident golfers.
Next up is The Bridge To Nowhere, modelled after the landmark that sits mysteriously in the waters of Belhaven Bay.
And whether you sink a hole in one or score a triple bogey, everyone that takes part will still be a winner and receive a 20% discount on Belhaven beers at the brewer's online store until 7 September as well as 20% off in the brewery's shop at the Belhaven Visitor Centre Shop in Dunbar.
The mini golf course will be running at Belhaven Bar on the Mound until 27 August and will only be open between 12pm and 9pm.
To add to these celebrations as well, Belhaven is also running a speclal 'pub trail' to mark this year's Edinburgh Fringe Festival with a Walking Tour of 12 of its pubs, which includes the Belhaven Bar on the Mount. To get involved, consumers can go to the tour's dedicated webpage and download the map for themselves.
Fiona Matheson, Belhaven brand manager, said: "At Belhaven, we believe that the best times are the ones we share together, especially having a lot of fun with friends at the Fringe this year!
"Whether you've never picked up a putter before, or you consider yourself a bit of a pro, show us your best by taking on The Chimney and The Bridge To Nowhere over the next few weeks!"