Sustainability Champion winner – Premier Racetrack Pitstop Bearsden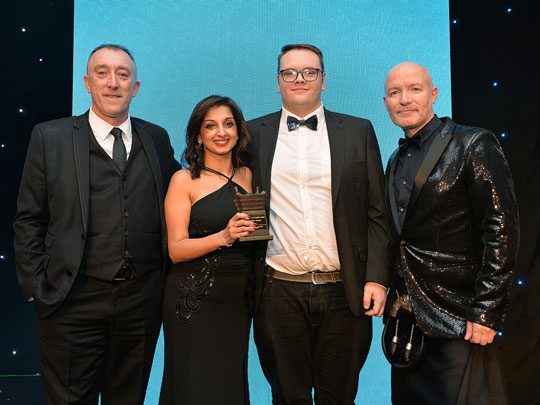 Winner details
Interview with Shamly Sud, director of GHSL and Leigh McCarter, store manager
Symbol: Premier Racetrack Pitstop
Services: Vaped4U, Tubbees, Subway, Hoagies, Pret A Manger, Too Good to Go, hot food to go
Sustainability Champion – supported by Britvic
• The Bearsden store first opened in April 2022 and has since attracted a number of consumers to the destination, with people driving for hours at a time just to visit the store.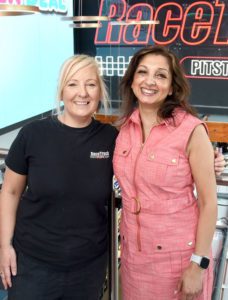 • Sustainable innovations in the store include the incorporation of solar panels on the roof of the building to power the store's lighting, a heat recovery system for the slush machines that heats the store during the winter and a rainwater tank that helps to power the Jet Wash car wash.
• Bespoke neon light signs can be found across the store, advertising and highlighting the Tubbees brand as well as creating some eye-catching designs for consumers.
• A large television screen also fills the side wall, which advertises ongoing promotions in the store – all of which has been designed by an in-house team of graphic designers for Racetrack.
Supporting the planet in business
CONSUMERS are more aware than ever about the impact on the planet at the moment and so choosing sustainable brands is a must for plenty of shoppers.
But in the context of the cost-of-living crisis, there's an added challenge for consumers to stay green while also saving cash. So retailers need to step up to the plate to ensure their customers can still do their bit for the planet.
This idea has taken off at Premier Racetrack Pitstop Bearsden, with the entire store seemingly fitted to run with the planet in mind.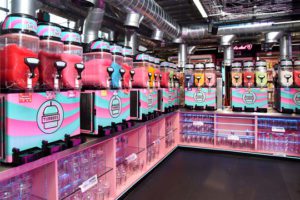 Not only do solar panels help to run the attractive lighting found all over the store but the heat energy generated from the slush machines in store goes on to power the heating in the winter months.
And rainwater gets collected in a tank at this store, which will then go on to be used for the Jet Wash car wash bays.
All this and an ambition to always do what's right for the planet impressed Scottish Grocer Awards judges and that is why the store picked up the sustainability champion gong at the 2022 event.
Shamly Sud, director of GHSL – the firm behind the Racetrack Pitstop brand, discussed how the store has changed in a short amount of time, only opening just over a year ago in April 2022.
She said: "The thing with this store especially is that it only opened a year ago now and it has changed quite drastically from what it was.
"We're testing the waters here to see what does and what doesn't work, so it is constantly being kept fresh and up to date.
"We're always looking for new ways to improve across all of our stores. With this one we know we run a lot of lights so they are on timers using smart LEDs to control them. It's all about looking at where we can save energy and how we go about doing it."
It's a method that is clearly paying off in this store as Sud revealed the shop manages to save thousands of pounds every month through these measures.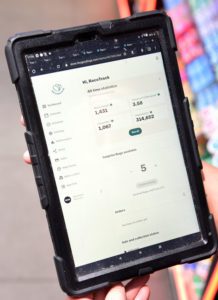 While there are plenty of tech innovations to shout out about here, the store works down to even the simplest options to ensure that nothing goes to waste, with the inclusion of the Too Good to Go scheme that sees bags of food that are close to their use by date promoted on the app for a discounted price.
Store manager Leigh McCarter heads this up, aiming to ensure nothing goes to waste by helping to bring as many consumers as possible to the app. And if there are still bags left at the end, staff members are welcome to take one of them, too.
Sud explained the process involved for the Too Good to Go bags: "The manager will have a list of what's available in the store that will soon be going out of date and then she will put this up on the app and, nine times out of 10, the bags will all go out.
"Whether that's from customers or staff, we try to put in as much as we can so they are good bags – because it's better to just let it go out to people that will actually use it rather than it going straight to the bin.
"But it can be a mixture of anything you find in the shop like American sweets, sandwiches, whatever is in the store, including our Tubbees range."
And there is certainly plenty to be found in any Racetrack store, with a variety that aims to fit as many consumers missions as possible, with the Bearsden outlet being no different in this respect.
Sud said: "Our philosophy for Racetrack is that it should always be a one-stop shop, so whatever you feel like having that day, whether savoury or sweet, then you've always got that choice in the stores.
"We're always thinking about where we can go next, you've got to walk before you can run.
"The next sustainable steps we want to take involve a bigger emphasis on recycling for our products, so we want to bring in more recycling options for our cups as well for our vapes, too. I think that will be the next stage in how we work to develop our efforts here.
"We also want to make sure that customers know the green efforts we go to here, so we'll be working on how we can communicate this to our shoppers."
This ambition is spreading for Racetrack Pitstop, with brand opening its latest store in Coatbridge and gearing up for another opening in the Wishaw Retail Park.
And while Sud talked about looking forward for the brand, she also emphasised it's just as important to look after what has already come as she also noted more store refits were on the list for the entire suite of Racetrack Pitstop outlets.
"We are absolutely looking to mirror all of these sustainability efforts in our stores going forward now but we are also looking at the next stage and phase for Racetrack and how we can bring our older stores into this new phase.
"We're going back to all our current stores while working on the future ones to see just how we can make them all better than they already are.
"Every one of our stores has now got plans in place to extend and improve on what we already have in place, so it is all about going back and actually getting to revisit all of these stores now.
"I am feeling very content with where Racetrack is at the moment and we are looking into a new concept store for the brand with a self-laundry focus that also has a more social aspect, too. So we'll be bringing that in for the future and that will be our next project going forward."