Home Delivery Store of the Year – supported by Snappy Shopper
Winner: Londis Solo Convenience Baillieston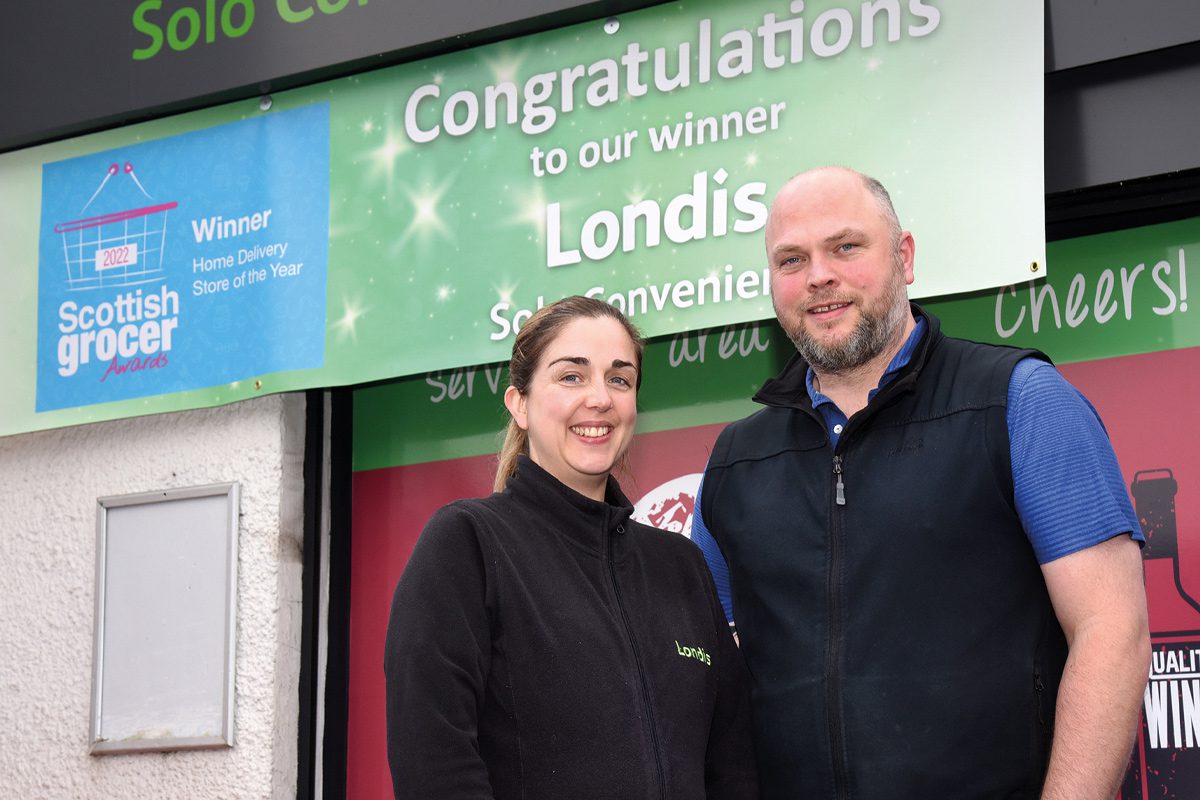 Winner details
Staff: 14 staff members
Symbol: Londis
Services: Snappy Shopper, F'real, National Lottery, Children's Lottery, PayPoint, ATM, Evri
Natalie and Martin have kept a personal touch to their delivery service, including a range of hampers that can be decorated with celebratory balloons should customers wish for it.
Popularity for these hampers has seen customers order them from as far afield as Ireland to deliver to a local family member in the Baillieston area as a Christmas gift during lockdown.
Despite running a delivery operation from a store that is only 500 square feet in size, Londis Solo Convenience Baillieton has ranked in Snappy Shopper's top 10 stores in terms of turnover.
The retailers keep a keen eye on their social media pages as well, ensuring they remain approachable towards customers old and new whether that be in-store or online.
Driving up delivery for the store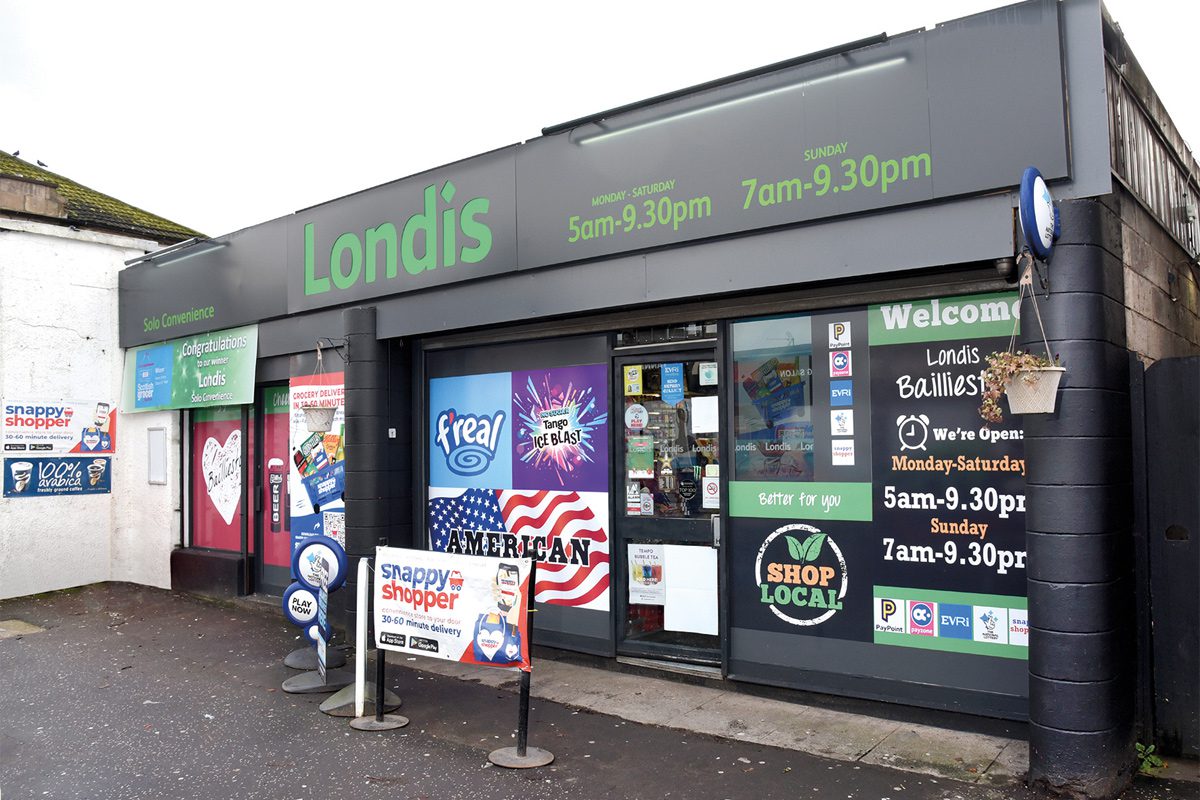 OPERATING from a smaller store doesn't mean you need to think on the smaller side for running it.
That's how both Martin and Natalie Lightfoot approach running their Londis Solo Convenience store in Baillieston and it has more than paid off for the couple.
While owning a store that's just 500 square feet in size, both Martin and Natalie have ensured they have kept to a high standard when it comes to the store's delivery service, even from day one.
This attitude to the service impressed Scottish Grocer judges when they came to visit the store last summer and chose to name the Baillieston shop as the Home Delivery Store of the Year at the Scottish Grocer Awards 2022.
While the couple said they had been in conversations with Snappy Shopper to grow their delivery service in store from summer 2019, both Natalie and Martin saw the pandemic as a perfect opportunity to get the service up and running.
Martin said: "Not long before the pandemic came along, we were looking to expand our delivery a bit more. We were mainly doing it through Facebook but it was hard to show cutomers just what exactly we had in store using that.
"So after the pandemic started, we contacted Snappy Shopper and they helped us to get set up within a week.
"At that point, we were running it from 10am to 4pm, Monday to Saturday, and I was just doing all the deliveries as well, with no extra delivery charge on top because it didn't feel right to add that on during the time.
"But after our 1000th delivery, we added an extra charge and that meant we could hire a driver. And, thanks to that, we managed to make about 74 deliveries in a day which, at the time, we thought was just incredible – but now that's about our average for a day."
Following the introduction of Snappy Shopper to their store in April 2020, the pair have managed to attain new heights, including ranking in the top 10 of Snappy Shopper stores in terms of turnover.
And on top of a clearly well-run delivery service, Martin and Natalie make sure there is still a personal touch for customers with some specialist hampers.
Following some demand in the local area, the couple began to make up hampers of items which ranged from a selection of traditional Scottish goodies, such as tablet or macaroon, to more specialist items such as Buckfast Tonic Wine.
Natalie said: "The hampers came about when people would come up to us and said they couldn't think what gifts to get people and mentioned they knew they drank Buckfast, but how can you make that look pretty?
"So after that, we told them, well, we'll give it a try – and it's just grown from there.
"But it's not just Buckfast hampers – we also do what we call the Wee Granny Hamper, which is just a small one that comes with a small 20cl bottle of whisky, some tablet, macaroon and some hard boiled sweets, just some extra things that help it feel a bit more personal."
And this extra personal touch has come in handy for those further afield than Glasgow, it would seem, as Natalie and Martin mentioned that someone from Ireland had ordered a hamper during the pandemic as a Christmas present for their grandmother, who lived round the corner from the Baillieston store, to make sure she still had a present from them for the festive season.
All of this hard work is clearly working for the Baillieston store as Martin and Natalie said their average basket spend on the app sat at £25.20, with some customers spending hundreds of pounds in the store within the space of 30 days through the Snappy Shopper app.
Martin said: "There's a good number of shoppers who are all in the double figures in the last 30 days. So it's not just people thinking they'll get this one order now, it's all repeat customers. And we're still having more new customers.
"For example, in the last eight days alone, we've had 84 new customers order from our store on Snappy.
"We've been getting more new customers in than we had this time last year. So even though the pandemic is basically finished, we're still seeing this continued growth for delivery in our store."
It comes as no surprise, then, that the store's delivery service is currently making up around 40% of the business – close to 45% according to the retailers – who are keen to meet this number and soon.
And beyond meeting that number, Martin and Natalie aim to keep driving up their delivery service, with aims and targets they continue to strive for and plan to do so for some time to come.
Natalie said: "We want to really focus on developing the service we provide further as we go on
"We've got goals, aims and targets that we want to achieve and to make sure more customers are aware of the service that we can provide with delivery.
"But definitely, in the next 10 years, we would want to have our own vehicles. We already have the van for ourselves but we hope to expand this to have more vehicles, including some electric cars.
"I think it's just the way to go here and the way that everything is going to go."
Martin added: "It's about knowing that the delivery service is always going to be there and making sure we remain sustainable enough to keep ourselves going for a long time to come."