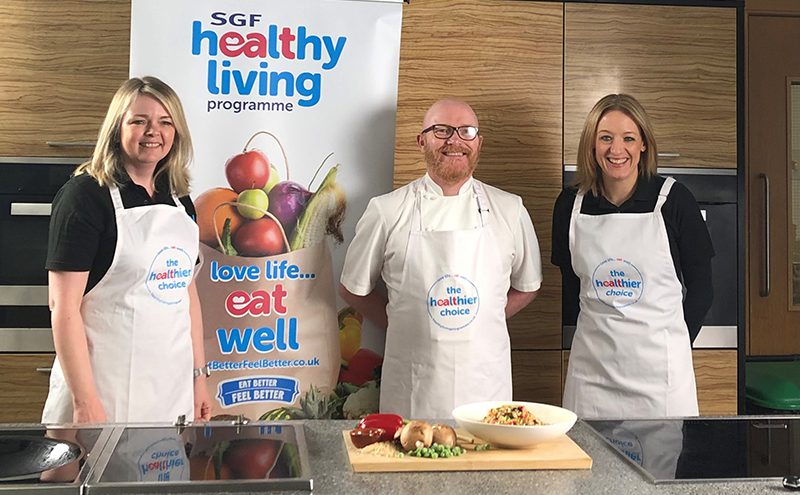 CELEBRITY chef Gary Maclean is going to show Scottish convenience store customers how to cook from scratch.
Maclean – who currently serves as Scotland's national chef – has teamed up with the SGF Healthy Living Programme and Parent Club to launch a campaign that will seek to make cooking at home more accessible.
From next month, Maclean will appear in a series of videos, which will be appearing across social media channels. In the videos, Maclean will explain how to create eight simple, healthy dishes. These will also be available to retailers should they wish to show them on in-store screens.
According to the campaign, each recipe in the series is family friendly, cost effective, quick and simple to prepare. The recipes are made solely from ingredients that are commonly found in convenience stores.
Support for the campaign comes in the shape of in-store advertising including recipe cards, posters and POS materials such as product separators. The POS materials and recipe cards will also include QR codes that, when scanned, will direct consumers to the recipe videos.
The Healthy Living Programme has joined forces with Masterchef: The Professionals winner and City of Glasgow College chef lecturer Maclean, following a successful recipe card trial in One O One stores earlier this year.
Through that pilot scheme, One O One offered a multi-buy deal to customers that was accompanied by a recipe card. In January, customers in participating One O One stores were able to snap up all the ingredients required to make homemade tomato soup for four people, with plenty of extra ingredients left over. Priced at £6, the multi-buy deal included three tins of chopped tomatoes, a packet of two garlic bulbs, a whole head of celery, 500g of onions, and vegetable stock.
Kathryn Neil, director of the Healthy Living Programme, said this latest recipe card campaign will present retailers with an opportunity to drive sales of fresh and healthy ingredients in their store. Retailers who wish to get involved should contact the Healthy Living Programme and Neil said the team would be happy to provide support, including hosting launch events with free giveaways for consumers who purchase ingredients in the promotion.
• Retailers who would like to get involved in the recipe card initiative can find out more by contacting 0131 343 7602, healthylivingeast@sgfscot.co.uk. The Healthy Living Programme can be found online at healthylivingprograme.co.uk.