Premier Allanton launch revives service for locals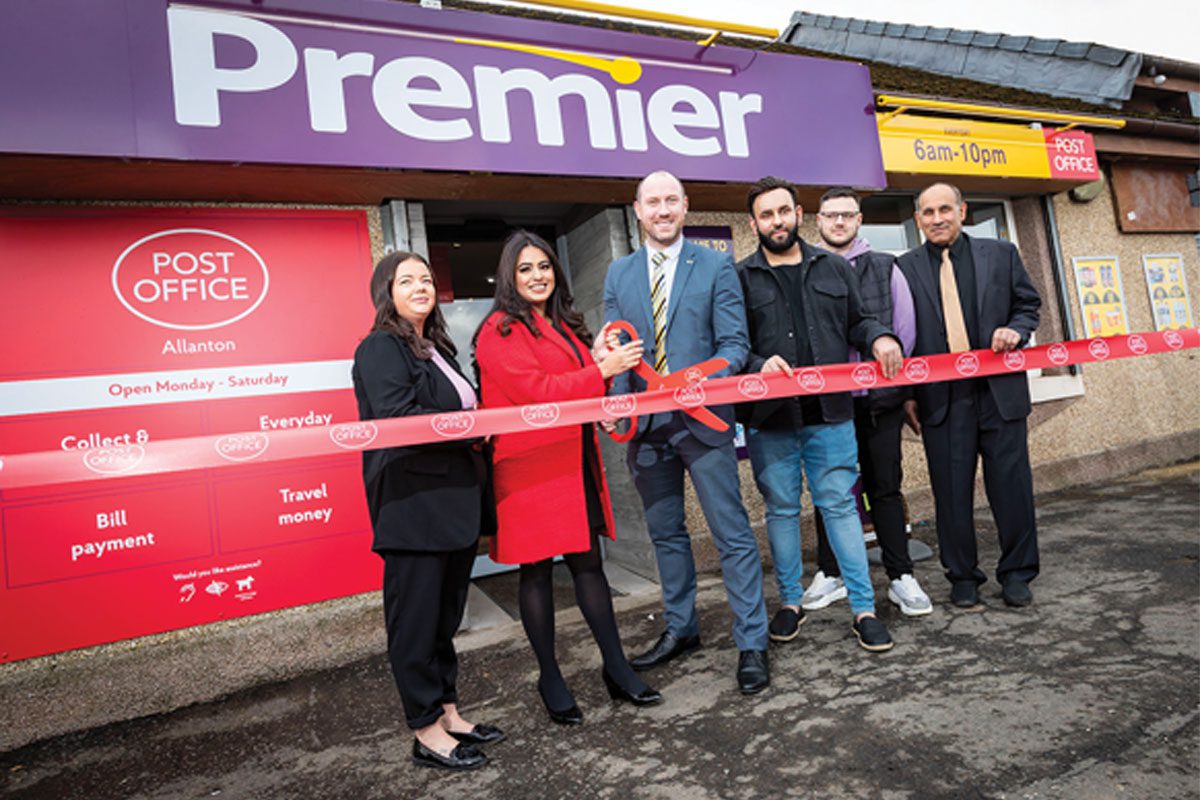 A FAMILY making their first foray into convenience retailing has brought Post Office services back to the village of Allanton, North Lanarkshire.
Lee and Demi Bannatyne have taken on the day-to-day running of the village's new Premier store, with experienced Motherwell retailer Omar Nasir serving as Postmaster.
Politicians and Post Office staff were out in force for a ribbon cutting ceremony at Premier Allanton last month. The village had been left without a Post Office last year, when CJ Lang opted to remove the counter from its nearby company-owned store.
Closing a Post Office counter in one part of the village has opened doors in the other, with the Bannatynes getting to work in September to convert a former pub.
Lee Bannatyne may not have run a store before, but he has no shortage of retail contacts thanks to his firm DB Refrigeration.
Drawing on the knowledge and experience of industry friends, and their own expertise, the Bannatynes and Nasir have created a modern c-store from scratch, complete with wood panelled interiors and energy efficient refrigeration throughout.
The addition of Stuart's bakery, Equi's ice cream, Tango Ice Blast and Costa coffee bolster's the store's to-go credentials, and there are plans afoot to further expand with a café next door – in what would have been the former pub's lounge area.
Demi, who previously worked for the NHS for more than a decade, said that the community response to the new store has been outstanding, even as she continues to get to grips with her new role.
"I keep going to call my customers patients, but if you've got people skills you can translate that to anything in life.
"They've been really patient with us, I couldn't imagine coming into a better community, we've been welcomed with open arms," she said.
Local MSP Neil Gray said stores like Premier Allanton are "crucially important."
"When CJ Lang suggested they were going to be removing themselves from the Post Office Contract, Anum [Qaisar, local MP] and myself were really concerned about what that was going to mean for the village.
"We're really pleased with the way the Post Office has engaged on the issue and the fact that we have a new Post Office, a new retailer and investment coming into the village is fantastic," he said.
Also in attendance, Post Office network manager Steven Simpson said it was "fantastic" that the new store had plugged a gap in its network.
"If we hadn't managed to get anything we'd be leaving a big area without Post Office provision," he said.