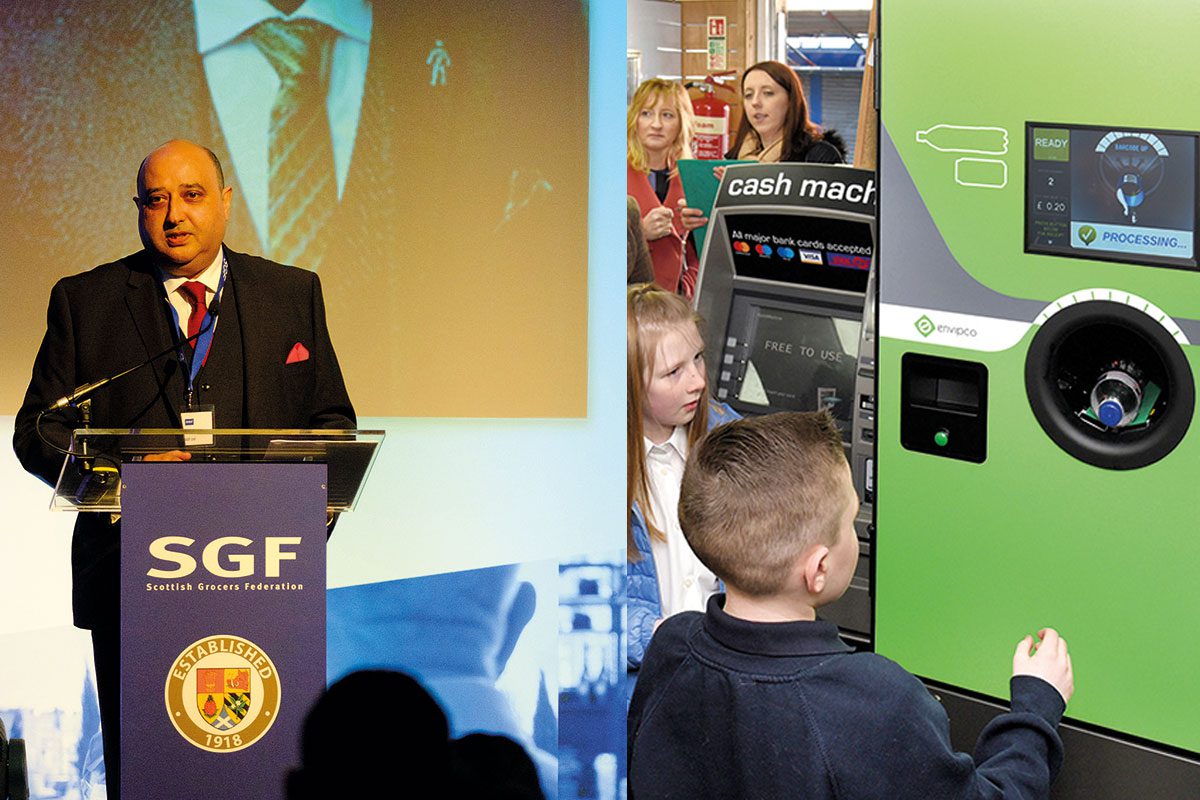 SCOTTISH Grocers' Federation chief executive Pete Cheema has voiced major concerns around the development of Scotland's deposit return scheme.
In an interview with Scottish Grocer, Cheema highlighted a number key issues that the SGF boss reckons could spell trouble for retailers and consumers.
High on the list for Cheema was the status of VAT. The UK Treasury's current position is that VAT will be applied to deposits, and Cheema said retailers need clarity on what this will mean.
"Does it mean now that we will need to charge 24p per container? Because fundamentally, that could change everything.
"We're really concerned about that, because we need clarity and at the moment we just don't have it. We are requesting clarity on this and I'm not really sure what the situation will be.
"There's a problem, because the way it was calculated previously, the way [scheme administrator] Circularity Scotland saw it, VAT was part of the 20p.
"Now the government are telling us the VAT is on top of the price, so fundamentally that changes the whole working of the system," he said.
Cheema also warned that the DRS requirement for drinks producers to register with SEPA could lead to a reduction in consumer choice.
"Everything's got to be registered in future with SEPA, could that mean fundamentally that a lot of companies might pull out of Scotland?
"Will a lot of companies apply the 80/20 rule? If their sales come from 20% of their products, will that mean they'll not bother supplying the other 80% until England comes into the scheme? That would leave us in a worse position," he said.
Regarding the Business Regulatory Impact Assessment (BRIA), published last December, Cheema suggested there is a need to reassess the business case for DRS to take into account the current economic climate.
"It hasn't really taken into account what's happening now. There's a number of factors, the cost of living as we can all see: prices are going through the roof with oil, gas and electricity; the worst inflation for 30 years.
"We've been told that the cost of living could go back to 1950s levels, and in Scotland we're hell-bent on putting a DRS system in that could fundamentally be really bad for the lower end of our community, people that don't really have very much money," he said.
Implementation of Scotland's DRS has faced multiple delays, with the 1 April launch date first pushed back to spring 2022, and the Scottish Government announcing a further delay to August 2023 in December.
Despite the extra time, Cheema said successful implementation will still be a major challenge, based on current progress.
"It's going to be difficult. If you look at everything that's happening out there, I worry about how [returned] containers will be lifted [from stores]. Will they be lifted on time? How long will products stay in store?
"There's going to be problems. We know about the supply chain, a lot of these RVMs have still got to be mass produced and located into stores. We don't know at this point what the handling fee is going to be, we're completely in the dark with a lot of the mechanics and the operational side of the scheme.
"We're already into March and we've got to deliver this in one year and five months? It's going to be hard," he said.