Keeping attention across the season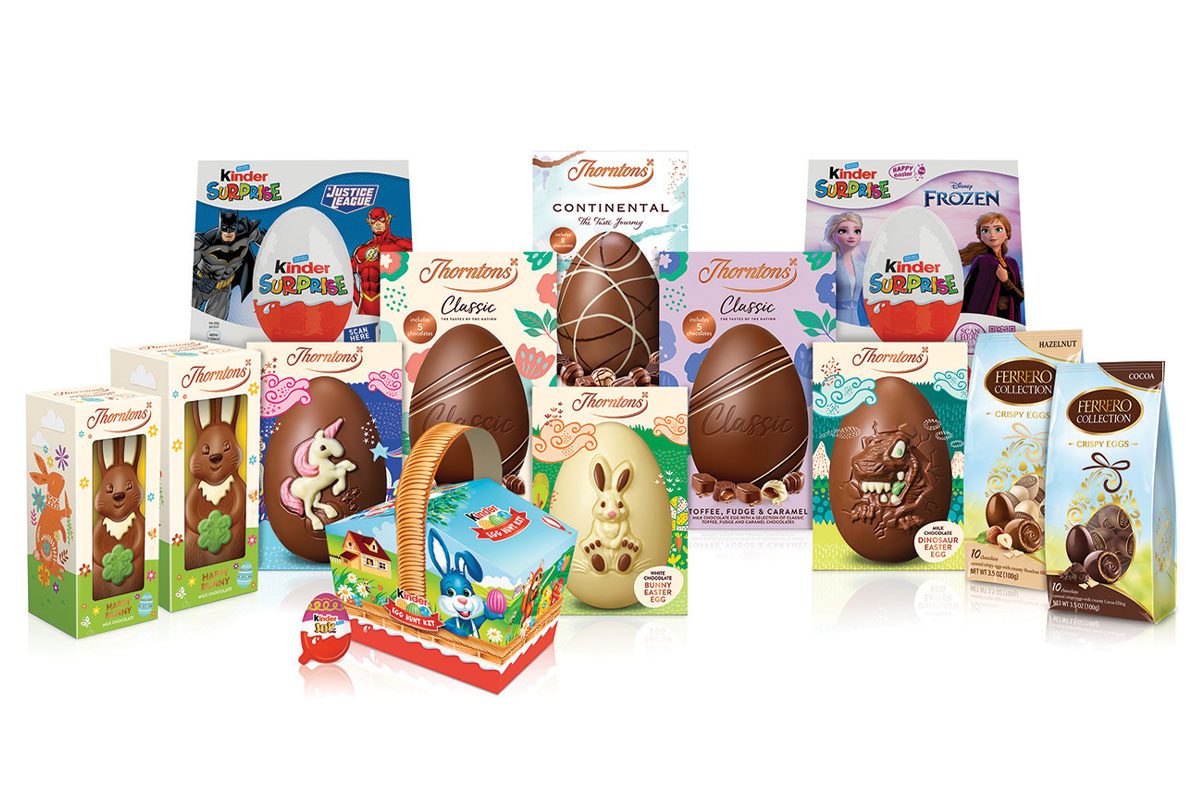 FERRERO has revamped its Easter range, rolling out new looks across its brands and introducing more sustainable packaging.
Last year, Ferrero's Kinder range enjoyed growth of 17% in the 12-week lead up to Easter, and the confectionery giant hopes to replicate that success in 2022.
Kinder Joy makes its return, with revamped packaging including a refreshed Easter bunny.
The seasonal variant comprises a miniature egg that splits in two, with one half containing layers of cocoa and milk cream, and the other containing a toy and a paper spoon.
Adult consumers are also catered to through The Ferrero Collection. This year's Easter range includes Ferrero Collection Crispy Eggs, available in hazelnut and cocoa flavours.
Boxed chocolate also features prominently in Ferrero's Easter offer. Last year, Ferrero Rocher 300g was the number one classic SKU within total boxed chocolate, according to Nielsen.
The category stalwart is joined by the Ferrero Rocher Boxed Egg 275g and the Ferrero Rocher Flame Egg 212g, as well as the Grand Ferrero Rocher 125g. Ferrero recommended retailers stock up on these large format seasonal items closer to Easter, as shoppers will be on the hunt for larger gifting items.
The Thorntons brand has also undergone some changes for Easter 2022. This year, sees Ferrero relaunch its two Thorntons Happy Bunnies variants, with a packaging refresh. The Bunnies will also be sold in a giftable box. The Thorntons Classic Easter egg range comprises two different formats, 150g and 220g.
Sustainability has also been key to Ferrero's Thorntons range for Easter. The brand's eight-strong Easter egg range has been rolling out in packaging without plastic windows, as part of Ferrero's commitment to make 100% of its packaging reusable, recyclable or compostable by 2025.
Levi Boorer, customer development director at Ferrero, said: "Easter is a great time to celebrate with your favourite chocolate confectionery.
"Compared to Christmas, shoppers were more likely to make a dedicated trip for chocolate at Easter, showcasing the size of the opportunity as we fast approach the occasion.
"In preparation, we are bringing back some of our best sellers and updating some of our seasonal favourites.
"With a collection of brands that shoppers know and love, our Easter confectionery portfolio will help retailers to drive standout on shelf, encouraging an increased basket spend.
"Our larger 220g Thorntons Classic Easter Egg can create trade-up opportunities in-store for shoppers looking for something extra special before the big day."