Cycling Scotland offering grant funding for retailers to improve infrastructure and the environment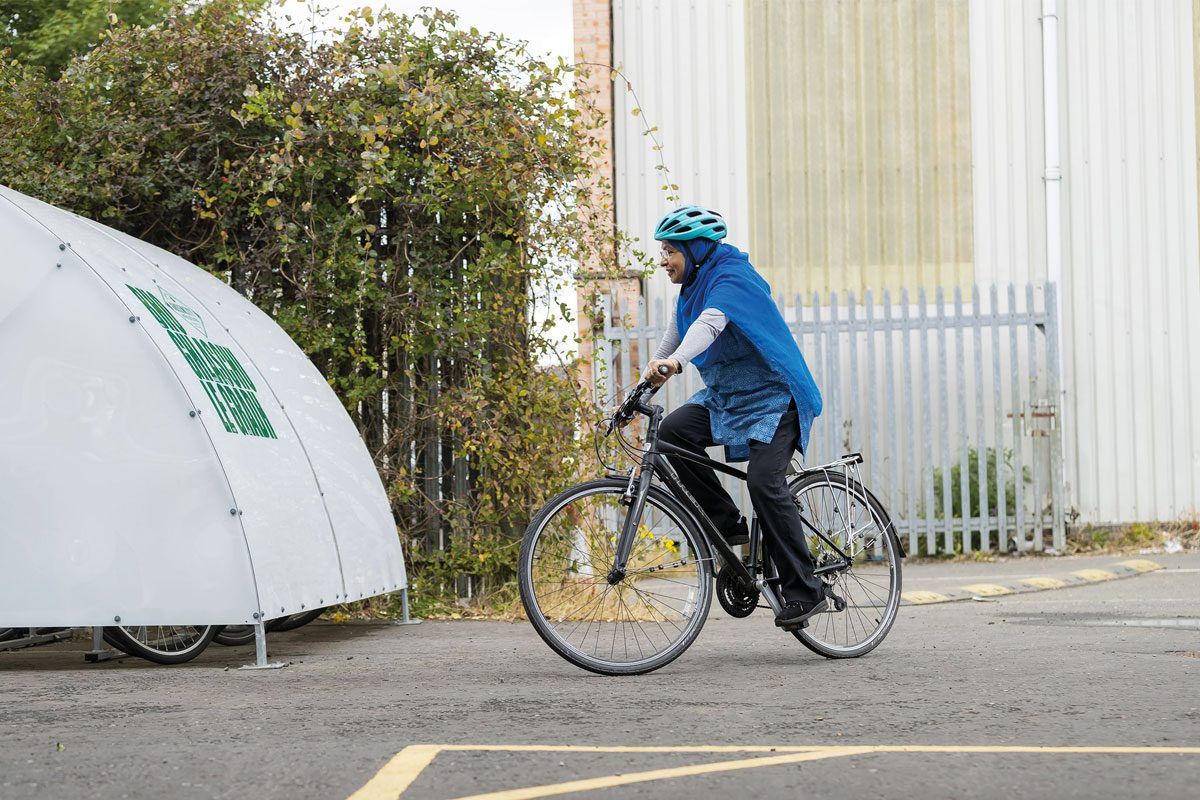 IF humanity is going to hit the necessary carbon reduction targets to mitigate climate change – more consumers are going to have to get on their bike.
At present, infrastructure for cyclists leaves much to be desired in some areas, but Cycling Scotland is stepping in to improve facilities amid a pedalling boom.
The cycling organisation – which receives funding from Transport Scotland – is offering retailers grant funding to provide secure and covered bike parking for staff and customers, cycle training for staff and information and guidance on sustainable pedal-powered deliveries – as well as access to bikes.
Cycling Scotland's support comes as more and more Scottish consumers take to the saddle. The organisation has revealed there was a 47% increase in cycling journeys across the country between March 2020 and March 2021. This means a growing number of retail customers and staff are heading to stores on two wheels.
To entice Scottish cyclists into stores, Cycling Scotland has been encouraging retailers to introduce cycle parking.
The advantages to retailers, according to the Cycling Scotland, go beyond environmental benefits – as Kath Brough, head of behaviour change at Cycling Scotland, explained: "Customers arriving at your store by bike spend more than those coming by car.
"Official research has shown that areas boasting cycle parking for customers deliver five times more retail spend than the same space for car parking.
"Covered, secure cycle parking is a brilliant way to attract people on bikes to shop with you. Put simply, they will pedal past and spend their money elsewhere if they can't see a convenient space to park their bike."
Bike parking doesn't just offer bottom line boosting potential, Cycling Scotland said, it can also help to keep staff healthy – raising morale in the process.
Brough said: "Introducing bike parking and a cycling friendly culture for staff has many benefits, too.
"Cycling supports good physical and mental health for employees, has been shown to increase productivity, and is often the quickest way to get to and from work."
C-store deliveries, which boomed under lockdown and continue to provide additional revenue for many Scottish stores, could also benefit from pedal power, Cycling Scotland has claimed.
Brough explained: "Since 2008, van mileage has increased by a fifth due to online shopping. Vans make up 15% of motorised vehicle miles in Britain, and in large cities this figure can be up to 25%.
"The Bicycle Association has reported that up to 30% of van delivery trips are replaceable by e-cargo bikes – electrically assisted bicycles with purpose-built cargo-carrying capacity which can be used to transport a variety of goods.
"E-cargo bikes are more efficient compared to vans – they can take shorter routes through cycle lanes, take up less road space, and be parked more easily. They cost less to buy, insure, and repair than a delivery van. Crucially, e-cargo bikes are emissions-free – making them much better for the environment.
"In 2018, Sainsbury's trialled the use of five e-cargo bikes at an urban London store and found they could fulfil 97% of orders to local online customers and make up to 100 deliveries a day per bike. E-cargo bikes are the future for short journey logistics.
"Helpful guidance and funding exist to support the transition for retailers to embrace the future and become cycling friendly – because every journey cycled makes a difference."
• Retailers interested in the support offered by Cycling Scotland can get in touch with the team at cyclingfriendly.scot, with the subject line 'Scottish Grocer enquiry'.
Further information is also available through the organisation's website, cycling.scot.
Any enquiries can be directed to cyclingfriendly@cycling.scot