SGF holds first major event since pandemic onset, calling on FM to do more for c-stores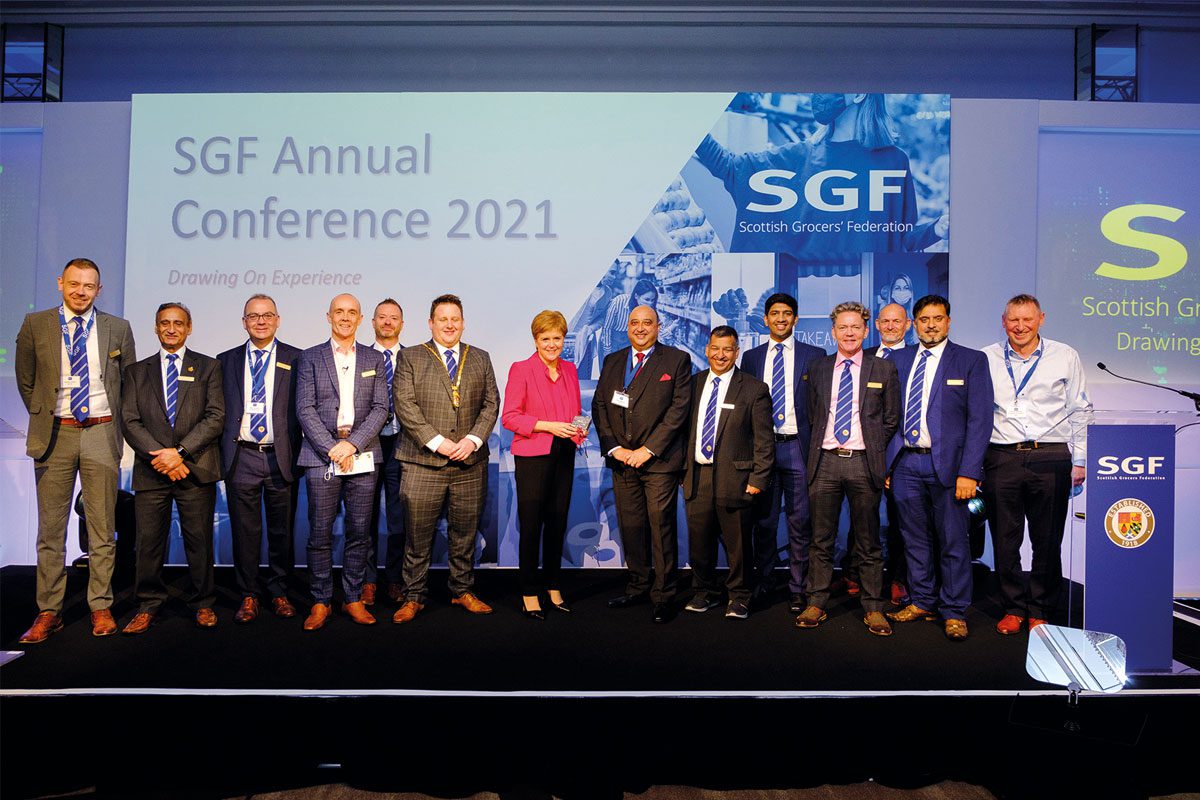 THE Scottish Grocers Federation welcomed hundreds of guests to the Crowne Plaza in Glasgow for its first annual conference event since the onset of the Covid crisis.
Over 440 guests were registered to attend this year's conference, which saw retailers, suppliers and other industry stakeholders attend presentations and break-out business sessions during the two day event.
Delegates were also able to socialise and network at a gala dinner attended by 380 guests.
The event was opened by SGF chief executive Pete Cheema, who led attendees in a moment of silence for industry colleagues who lost their lives during the pandemic, before praising the entire sector for its efforts and resilience.
First Minister Nicola Sturgeon was also in attendance, serving as keynote speaker conference's final day.
Introducing Sturgeon, Cheema thanked her for her attendance, but also called for more targeted interventions from the Scottish Government.
The SGF chief executive asked for a delay to DRS implementation, set to go live in July 2022, to allow the sector to better prepare. He also called for the 100% business rates relief threshold to be raised to a rateable value of £50,000, and arequested that small stores be made exempt from forthcoming legislation restricting food promotions.
"The fact that the First Minister is in attendance at conference, once again demonstrates how much our sector is valued at the highest levels of government."
"Our industry continues to face significant challenges and we must avoid any measures which would damage the recovery," he said.
In her remarks, the First Minister praised Scotland's convenience retailers and said SGF members "always make a very big difference to their communities," but added that their contribution during the pandemic "has been particularly prominent and particularly important over these last two years."
"In so many cases if your stores weren't open, people would need to travel more than a mile not just to buy essential goods, but to use services like bill payments and parcel collections.
"The standing of convenience stores in their communities has grown over this time and in many ways that is not surprising.
"So many of you stayed open during the pandemic when many others were closed. During the period of lockdown you weren't simply a source of vital supplies and service – although that was hugely important – but for some people you provided a much needed source of conversation, support and human contact and I want to thank you for it and acknowledge that cannot have been easy," she said.
Other speakers at the conference included representatives from Scotmid, Too Good Too Go, Spar Scotland, Nisa, Bestway, Suntory, Bobby's Foods and Google.
Former Booker chief executive Charles Wilson was also in attendance, and honoured with a lifetime membership of the SGF.