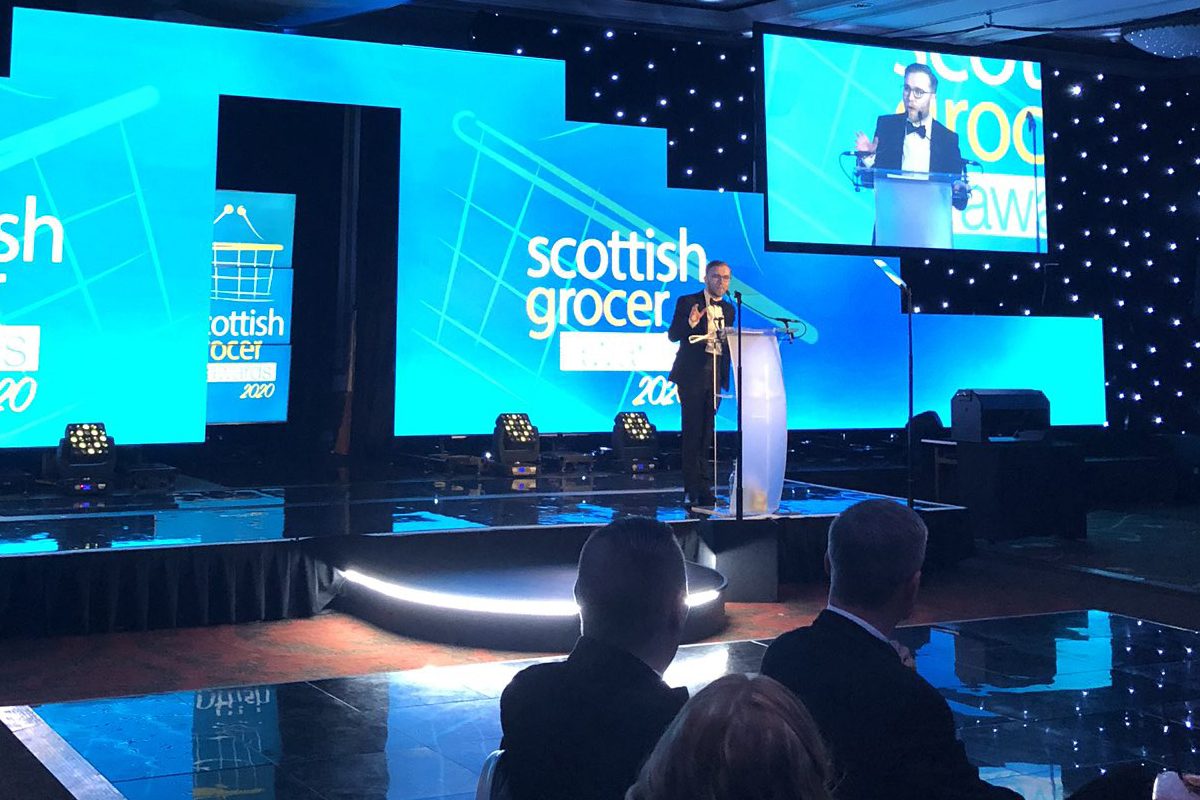 Retailers and staff were out in force for the Scottish Grocer Awards 2020 – and what a night they had. The best and brightest of Scottish convenience retail gathered at Hilton Glasgow for the gala event, hosted by Scottish comedy star Craig Hill.
The evening's biggest prize was awarded to Franco Margiotta of Margiotta stores in Edinburgh. Margiotta, who emigrated to Scotland in 1957, has built up an estate of seven stores in the capital since purchasing his first shop on Warrender Park Road in 1989. Long a favourite of students and locals alike, Margiotta's chain of stores continue to thrive in an increasingly competitive marketplace.
Other winners on the night included Ayrshire retailer Ian Mitchell, who was named Entrepreneur of the Year. The award recognises retailers who have shown real entrepreneurial spirit and Mitchell was praised for his exceptional stores in Ayrshire. Mitchell operates three stores in Ayrshire: Premier Drongan; Premier Woodpark Stores, Ayr; and Premier Girvan.
A total of 20 awards were handed out at the ceremony, with winners hailing from across Scotland. Scottish Grocer trophies were secured from Moniaive in Dumfries and Galloway to Drumnadrochit on the shore of Loch Ness. The full list of winners is available below.
Scottish Grocer editor Matthew Lynas said: "The Scottish Grocer Awards is a celebration of some of the finest convenience stores in the country. Each year we are blown away by the ingenuity and dedication of Scotland's retailers and 2020 was no different. Despite challenging market conditions, Scotland's independent convenience retailers have proven yet again that they are a valuable assets to their communities. This year, Scottish Grocer judges witnessed impressive support for local causes, innovative new sustainable business practices, and inspiring levels of care for elderly and vulnerable customers. It's a humbling experience to be surrounded by such talented and committed individuals. Congratulations to all of our winners and highly commended finalists."
Category
Finalist
Location
Result
Best Soft Drinks Outlet of the Year
Londis Solo Convenience
Baillieston
Highly Commended
Retail Express
Uddingston
Highly Commended
Spar Renfrew
Renfrew
Winner 
Innovation Award
Family Shopper
Blantyre
Highly Commended
Scotmid Co-operative
Stockbridge
Highly Commended
Nisa Pinkie Farm Convenience Store
Musselburgh
Winner 
Confectionery Retailer of the Year
Clydebank Co-operative Keystore
Dalmuir
Highly Commended
Scotmid Co-operative, Rimbleton
Glenrothes
Highly Commended
Day-Today Express
Stenhousemuir
Winner 
Family Business of the Year
Cot House Services
Dunoon
Highly Commended
Spar Clyne Condorrat
Cumbernauld
Highly Commended
Lochcarron Food Centre
Strathcarron
Winner 
Food to go Award
Brysons Londis
Prestwick
Highly Commended
Nisa Pinkie Farm Convenience Store
Musselburgh
Highly Commended
Scotmid Co-operative, Thornhill
Elgin
Winner 
Licensed Retailer
Buckie Service Station
Buckie
Highly Commended
Clydebank Co-operative Keystore More
Hardgate
Highly Commended
Doonfoot Day-Today
Ayr
Winner 
Post Office Retailer of the Year
Cairneyhill Spar Post Office
Fife
Highly Commended
Dalyrymple Spar & Post Office
Ayrshire
Highly Commended
Merchant City Post Office
Glasgow
Winner 
Tobacco Retailer of the Year
Cults Keystore
Aberdeen
Highly Commended
Londis Solo Convenience
Baillieston
Highly Commended
Shawlands News
Glasgow
Winner 
Vaping Retailer of the Year
Keystore Express Corseford
Johnstone
Highly Commended
Spar Havannah Street
Glasgow
Highly Commended
Racetrack Autoport Services
Glasgow
Winner 
Merchandising Award
Premier Linktown Local
Kirkcaldy
Highly Commended
Scotmid Co-operative
Uddingston
Highly Commended
Clydebank Co-operative Keystore More, Hardgate
Clydebank
Winner 
Sustainability Champion
Family Shopper
Blantyre
Highly Commended
Watson's Grocers & Daughters
Moniaive
Highly Commended
Premier @ The Union
Dundee
Winner 
Symbol Store of the Year (Multiple stores)
Premier Girvan, Drongan and Ayr
Ayrshire
Highly Commended
Day-Today Barassie & Doonfoot
Ayrshire
Winner 
Symbol Store of the Year (Single store)
Day-Today Prestonpans Village Store
Prestonpans
Highly Commended
Brysons Londis
Prestwick
Winner 
Innovation in Impulse
Scotmid Co-operative
Inverkeithing
Highly Commended
Spar Havannah Street
Glasgow
Highly Commended
Premier @ The Union
Dundee
Winner 
Best New Store
Brysons Londis
Prestwick
Highly Commended
JG Ross, Highclere Food Store
Inverurie
Highly Commended
Scotmid Co-operative
Drumnadrochit
Winner 
Community Retailer of the Year
Family Shopper
Blantyre
Highly Commended
Keystore Express Corseford
Johnstone
Highly Commended
Watson's Grocers and Daughters
Moniaive
Winner 
Employee of the Year
Glenda Reilly – Bourtreehill Supermarket,
Irvine
Highly Commended
Paul Stewart – Scotmid Co-operative
Strathaven
Highly Commended
Angela Gibson – Spar Renfrew
Renfrew
Winner 
Independent Retailer of the Year
Day-Today Bourtreehill Supermarket
Irvine
Highly Commended
Premier Girvan
Girvan
Highly Commended
Premier Linktown Local
Kirkcaldy
Winner 
Entrepreneur Award
Ian Mitchell – Premier Girvan/Ayr/Drongon
Ayrshire
Winner 
Industry Achievement Award
Franco Margiotta
Edinburgh
Winner