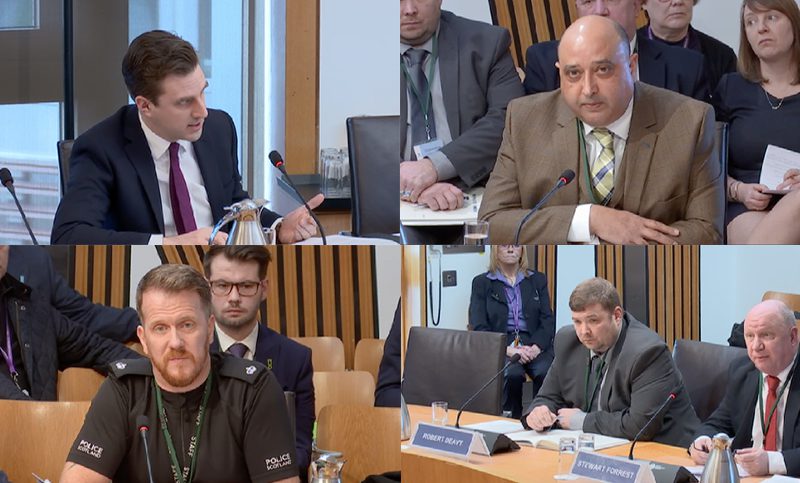 SCOTTISH retail groups and trade associations were united in backing a bill that aims to give shop workers enhanced protection from abuse and assault.
Addressing the Scottish Parliament's Economy Committee at Holyrood, industry leaders argued in favour of the Protection of Workers (Retail and Age-restricted Goods and Services) (Scotland) Bill, as MSPs considered its merit.
The Bill – put forward by Scottish Labour MSP Daniel Johnson in December – would create a new offence of assaulting a retail worker. It would also create an aggravated offence for assaults that occur while the retailer is checking for proof of age on age-restricted products.
Proceedings at Holyrood kicked off with evidence from Police Scotland superintendent Ian Thomson and Gillian Mawdsley, policy executive at the Law Society of Scotland.
Thomson said that the force "absolutely recognise the vital role retail workers play" in communities and the wider economy, describing the abuse encountered by shop workers as "deplorable."
However, Thomson and Mawdsley outlined concerns over the practicalities of the proposed legislation. Both argued that the Bill would need to be clear on the definition of 'obstruction and hindrance' in relation to a retailer carrying out their duties.
These concerns were addressed by Johnson, who highlighted similar protections covering officers under the Police and Fire Reform Act (Scotland) 2012.
The MSP's concern for retailer safety was echoed by SGF chief executive Pete Cheema. Cheema told MSPs that retailers have "had enough" and he challenged Police Scotland's record on protecting workers.
When questioned by the Committee on retailers' experiences with law enforcement, Cheema said: "No one shows up. We can't wait another five to ten years for this law to be passed."
Paul Gerrard, director of public affairs at the Co-operative Group, highlighted how the proposed legislation has brought together retailers and trade unions.
"It is noticeable that major retailers and USDAW are speaking with one voice on this," he said.
When the trade unions had their say, representatives from both USDAW and GMB both made strong pleas in favour of the Bill.
Stewart Forrest, USDAW's Scottish Divisional Officer said the union's retail members, "have got to live with the reality of laws not being enforced" and "need to know that there's a strong law in place to protect them.
GMB organiser Robert Deavey echoed Forrest, claiming that "current laws are not doing enough" to stop the abuse faced by retail workers.
The next stage for the Bill will see the Economy Committee produce a report on the proposal before it is passed to parliament for consideration.