Html code here! Replace this with any non empty text and that's it.

Implementation group members highly critical of proposals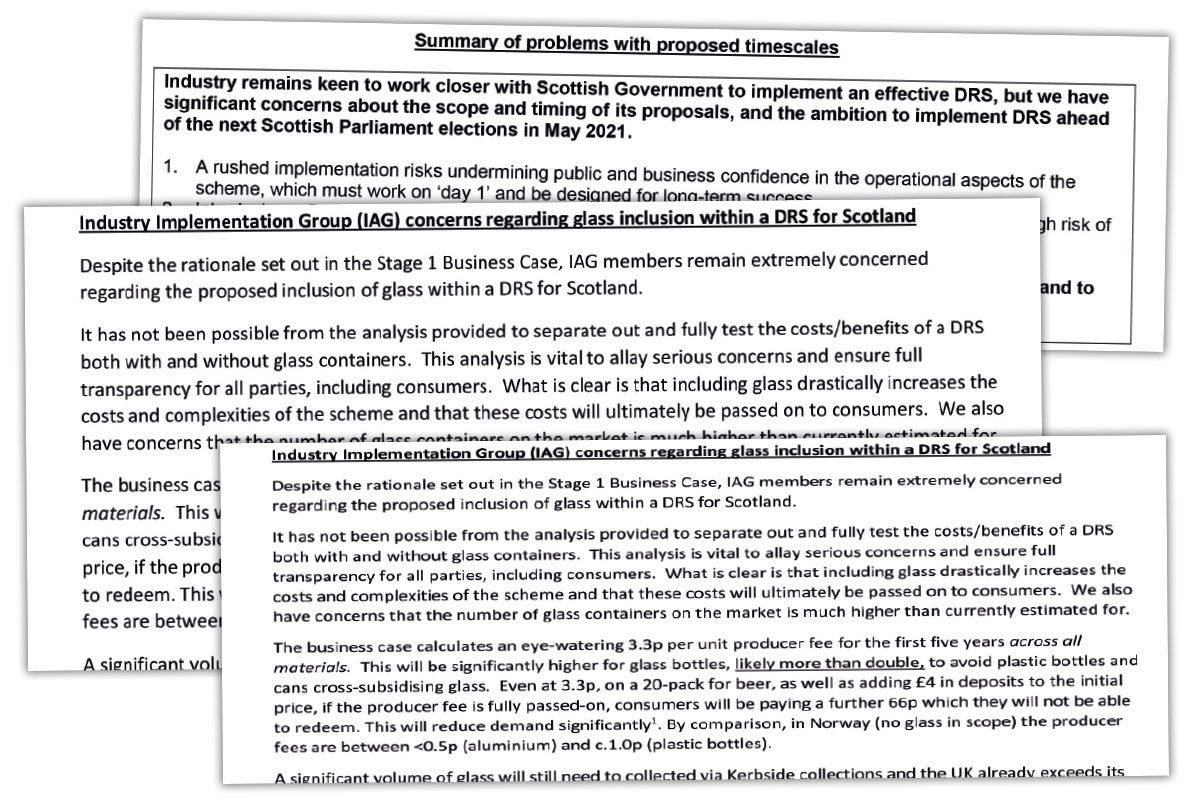 INDUSTRY stakeholders tasked with advising the Scottish Government on deposit return have slammed current proposals for the scheme.
A freedom of information request submitted by Scottish Grocer has revealed that members of the DRS Implementation Advisory Group (IAG) have outlined major concerns in three letters submitted to IAG chair Don McGillivray.
Ten organisations signed the letters included the NFRN, Scottish Retail Consortium, Scottish Grocers Federation and Scottish Wholesale Association – as well as producer organisations.
Once DRS goes live, these organisations and producers are expected to help form the industry-led National Scheme Administrator.
But at present, those who will be tasked with running DRS are far from impressed by the Scottish Government's proposals.
The letters raised concerns over the inclusion of glass, the proposed return to retail model and the government's ambition to launch DRS ahead of the Scottish Parliament elections in May 2021.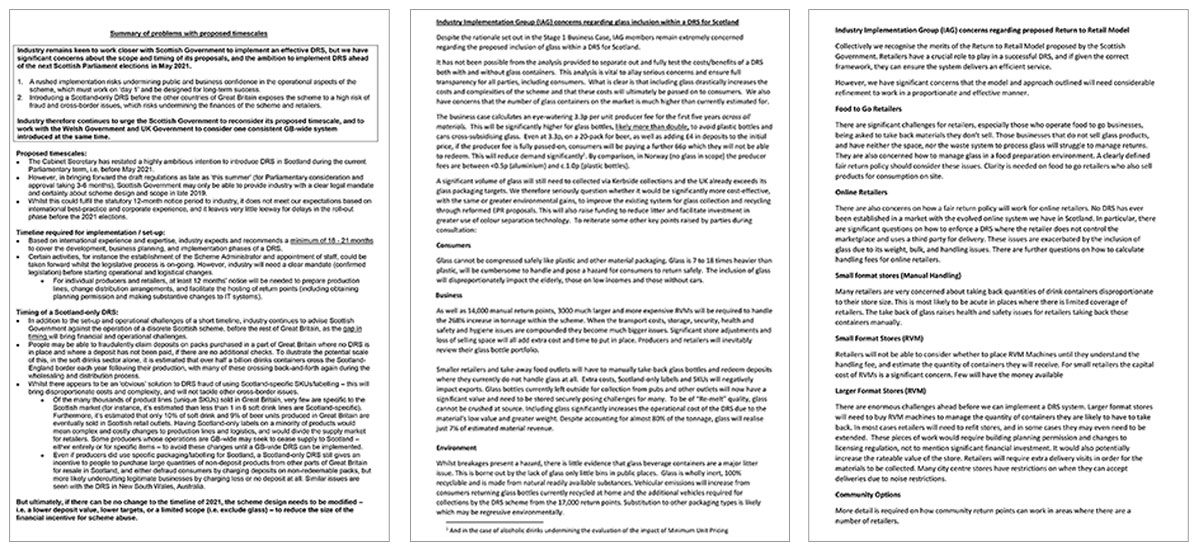 Click to view PDF (800KB)
On the subject of glass, IAG members said they were "extremely concerned", warning that including glass in DRS "drastically increases the costs and complexities of the scheme."
"Despite accounting for almost 80% of the tonnage, glass will realise just 7% of estimated material revenue," IAG members claimed.
Concerns were also raised over the Scottish Government's proposed 'return to retail' model for DRS.
Industry stakeholders warned that smaller stores could struggle if forced to take back large quantities of drink containers that are disproportionate to their store size.
On the Scottish Government's determination to implement DRS before the May 2021 Holyrood elections, IAG members were scathing.
The group warned that the timetable put forward by government "does not meet our expectations based on international best-practice and corporate experience, and it leaves very little leeway for delays in the roll-out phase before the 2021 elections."
Despite accounting for almost 80% of the tonnage, glass will realise just 7% of estimated material revenue.
With draft regulations scheduled to appear some time this summer, IAG members warned that industry would only be able to act on DRS from late 2019, forcing retailers and producers onto a tight schedule.
Concerns were also raised over the Scottish Government's decision to pursue DRS before a similar system was introduced south of the border – with the potential for fraud being a key issue.
In the soft drinks category alone, members claimed that over half a billion drinks containers cross the Scotland England border each year following their production, with many going back and forth during the wholesaling and distribution process.
IAG members also warned that producing Scotland-specific SKUs and labels may not be the silver bullet for fraud that some policy makers may have believed.
One letter reads: "Of the many thousands of product lines (unique SKUs) sold in Great Britain, very few are specific to the Scottish market.
"Furthermore, it's estimated that only 10% of soft drink and 9% of beer units produced in Great Britain are eventually sold in Scottish retail outlets.
"Having Scotland-only labels on a minority of products would mean complex and costly changed to production lines and logistics, and would divide the supply market for retailers."
Since these concerns were put to the Scottish Government, there has been no material change in DRS policy.
A Scottish Government spokesperson said: "We believe Scotland's deposit return scheme can help us recycle more than 90% of single-use drinks containers placed on the market, which is well in excess of what is being recovered through existing collection arrangements.
"Whilst we recognise that the timescale for implementation of the scheme is ambitious, our climate change commitments mean there is no time to waste.
"The inclusion of glass will deliver significant carbon reductions and help address the disproportionate impact that glass litter currently has on our communities and wildlife.
"We are committed to working with industry to test different arrangements for the handling and storage of material and to develop fraud prevention measures in advance of the scheme going live."
• Signatories to the three letters of concern submitted to the IAG chair were:
British Soft Drinks Association
British Beer and Pub Association
Natural Hydration Council
National Federation of Retail Newsagents
Scottish Retail Consortium
Scottish Licensed Trade Association
Scottish Grocers Federation
Wine and Spirit Trade Association
Scotch Whisky Association
Scottish Wholesale Association