Premier Foods launch NPD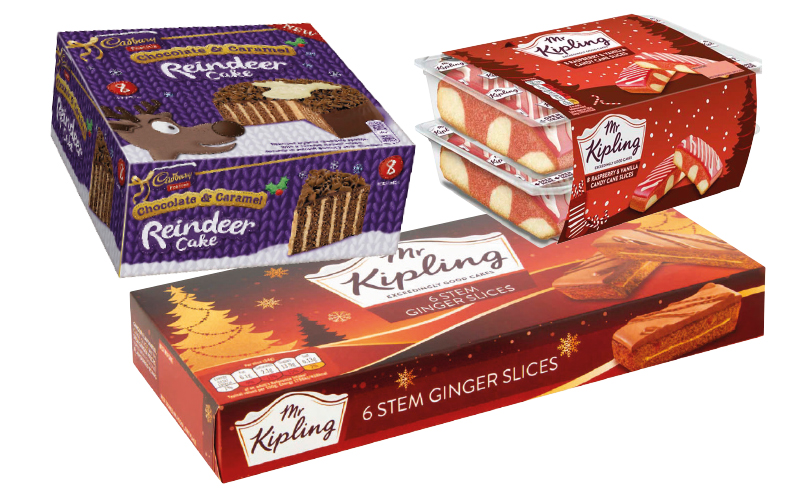 CHRISTMAS is traditionally a time of indulgence, and nothing does the job quite like a slice of cake.
With this in mind, Premier Foods is extending its Mr Kipling and Cadbury Cakes ranges just in time for the festive season, with an array of new products to tempt sweet-toothed consumers.

For Cadbury Cakes, two new seasonal editions will be released: a Reindeer Cake (RRP £3) and an 'All I want for Xmas' 12-cake selection box (RRP £4).
The Reindeer Cake is a chocolate sponge with caramel-flavoured crème that comes covered in smooth Cadbury chocolate, topped with a white chocolate Rudolph plaque.
Premier's festive selection box includes Mini Rolls, Festive Cake Bars, Festive Flake Cakes, Mini Yule Logs, Caramel Cakes and Roses Strawberry Dream Cake Bars.
The Mr Kipling range also sees two new snack-pack products join its line-up, with Stem Ginger Slices and Candy Cane Slices aiming to capture the excitement of the festive season.
Coming in a similar pack to the ever-popular Angel Slices, Candy Cane Slices have subtle raspberry and vanilla flavours and have an RRP of £1.50.
The Stem Ginger Slices – with real stem ginger, ginger sauce and chocolate fondant – are aimed at adults rather than kids, with an RRP of £2.29.
Jess Ali, marketing controller at Premier Foods, said: "It is important that we are always looking to innovate, which allows us to continually support retailers by offering our festive favourites alongside products that suit current and developing shopper trends."
In addition to its range of NPD, Premier Foods has also updated its packaging to place Christmas front and centre and encourage seasonal purchases.
The festive range will feature a host of Christmas symbols like trees, snow and reindeer, while also bringing back the original logo that appeared on other packs earlier in the year.
Ali said: "Our packaging re-design across the Mr Kipling festive range makes it easier for shoppers to identify the range in-store, while our Mince Pies have seen the inclusion of a window on-pack so shoppers can see exactly what they're buying.
"It wouldn't be Christmas without Mr Kipling Mince Pies and we want shoppers to get excited when they see the festive treat on shelves."
The Mr Kipling Deep Filled Mince Pies are available now at an RRP of £1.50 for a six-pack.