Brands focus on sugar free options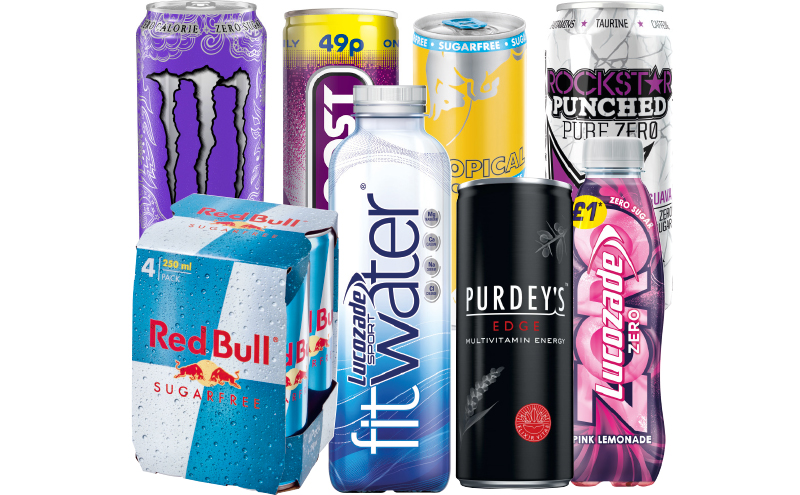 YOU would struggle to find a retailer in Scotland who isn't familiar with the sugar tax and the impact it has had on the industry.
Almost every manufacturer of soft drinks has been affected by the tax in some way and energy drinks are no different: with brands bringing in low sugar options to adapt to increasing consumer concerns about sugar.
Coca-Cola European Partners (CCEP) has invested heavily in low and no sugar through its Monster energy brand, and said that the variants are an "important contributor" to the success of the energy sector.
Amy Burgess, trade communications Manager at CCEP said: "The Monster Energy Ultra range, which in 2017 included four great tasting fruit flavours with zero sugar, grew by almost 14% in a year – demonstrating the increasing demand for zero sugar options."
It was a similar picture at Britvic, with the soft drink giant finding that demand for healthier options had fuelled growth of its Purdey's range.
Trystan Farnworth, commercial director, convenience and impulse at Britvic said: "People are increasingly worried about the long-term health impact of their choice of drinks, with six out of ten believing energy drinks are bad for their health.
"With a rise in healthy eating, as well as a desire for sustained energy solutions, Purdey's offers a soft drink that appeals to health-conscious consumers looking for an energy boost from vitamins as opposed to added sugar or taurine."
As sugar tax stories go, it doesn't get much more high profile than AG Barr, but while Irn Bru may have grabbed the headlines, the brand has also seen low sugar activity take place across its energy portfolio, with the zero-sugar Rockstar Revolt said to be performing well.
Adrian Troy, marketing director at Barr Soft Drinks explained: "A growing number of consumers are looking for a lower calorie or even sugar free option. The Scottish low calorie big can energy market is currently worth over £16 million and growing at 26%.
"It is estimated to continue to grow significantly over the next five years."
Red Bull is one of the most recognisable drinks in the energy sector, but even the widely known brand isn't immune to consumer concerns about sugar and calories.
Mark Bell, strategy and planning manager at Red Bull UK noted that alongside energy, today's shoppers increasingly demand a sugar free alternative.
Red Bull Sugarfree is aimed at these health conscious consumers, offering energy but without sugar, and just three calories per 100ml.
Bell said that he believed the sugar tax had affected the market and what consumers want.
"With the heightened importance placed on the health agenda over the past year and the Soft Drinks Industry Levy in place, consumers are swaying more towards sugarfree options.
"Therefore it is imperative that retailers offer a low kcal alternative – meaning that a higher proportion of space is being dedicated to low kcal products.
"Diet is worth £144 million, which equates to 11.3% of the sports and energy category, increasing by 1.7% from last year," said Bell, adding that when consumers approach the chiller and reach for a Red Bull, they expect to see Red Bull Sugarfree sitting alongside it.
Lucozade Ribena Suntory made similar merchandising recommendations, suggesting that low sugar drinks should be ranged beside the standard version.
Scott Meredith, UK sales director, Lucozade Ribena Suntory said: "Low and no sugar soft drinks should be merchandised just like the rest of the category, with space allocated to what sells best.
"Popular diet or low sugar versions of the top-selling brands should be ranged alongside the standard variants to make it easy for shoppers to find their favourite brands."
Energy isn't the only category to be touched by the ongoing health trend. According to Meredith, there's also demand for functional drinks, a trend that the sales director reckons LRS has responded to successfully.
"We launched Lucozade Sport Fitwater last year to help retailers grow their sales with a new functional water and the brand is now worth in excess of £3m value sales," he said.