A look at what's new in the world of crisps and snacks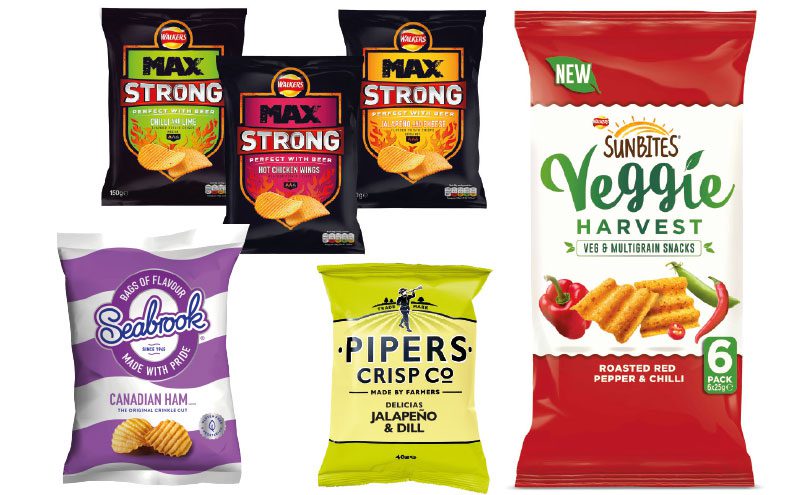 SNACKS are an important part of the 'food to go' sector, both as a stand-alone product and also as an integral part of meal deals.
Within the current market there is a rowing trend towards the consumption of premium snacks, particularly crisps – at least according to Alex Albone, founder of Pipers Crisps.
"Consumers are becoming far more discerning, actively seeking great-tasting snacks in preference to mediocre, commonplace fare whenever there's a choice. This is excellent news for food retailers as it gives an opportunity to create a real point of difference by premiumising your offer, helping you stand out from other competition on the high street while driving your customers' average spend.
"For 'food to go' snacking, you'll need to stock a range of flavours that suit consumers' changing tastes. Our new Jalapeno & Dill variety, for example, represents a unique and delicious flavour fusion, driven by the current trend towards heat and more globally influenced flavours."
• Walkers is aiming to capture the interest of beer lovers with its new launch, Max Strong. Available in three flavours – 'Chilli & Lime', 'Hot Chicken Wings' and 'Jalapeño & Cheese' – the range has been crafted to complement different types of popular beer
• Snack brand Sunbites is bringing what it says is the UK's only vegetable and multigrain snack to the market with Sunbites Veggie Harvest. The range offers two flavours, Caramelised Onion & Balsamic Vinegar and Roasted Red Pepper & Chilli, with the snack base boasting 69% multigrain and vegetable content.
• Seabrook Crisps is introducing new reduced case sizes across its range of single 31.8g bags which it says is set to boost profits for retailers by reducing stockholding and improving cash flow.
Commercial director John Wood said: "We're reducing cases of selected flavours (Cream Cheese & Chive, Canadian Ham and our new Lamb and Mint flavour) from the existing 48 single packs to 24, and the core range (Sea Salt, Cheese & Onion, Sea Salt & Vinegar, Prawn Cocktail and Beefy) will now be available as a 32 pack case.
"We predict this move will be beneficial for retailers in a number of ways. Most importantly, smaller cases mean less cash will be tied up in stock, allowing retailers to improve cash flow. The smaller cases will allow retailers to manage their stock more efficiently, giving them more space and an opportunity to experiment with different SKUs and flavour profiles."