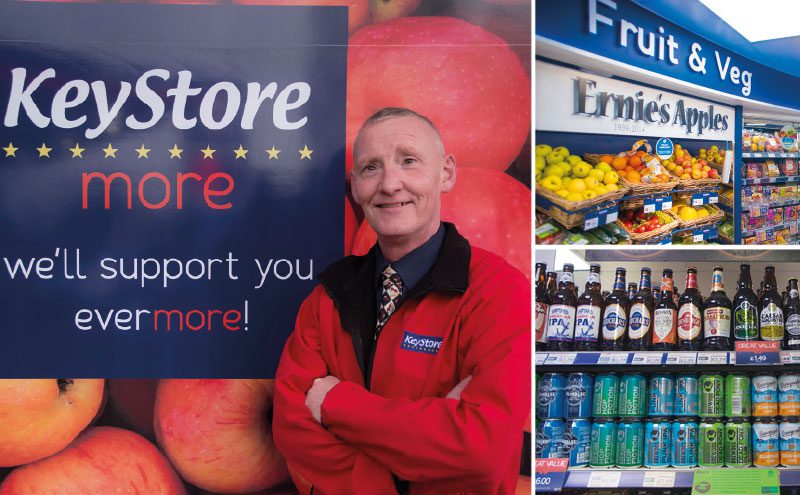 WHOLESALER JW Filshill has officially unveiled its new KeyStore More fascia with 11 stores.
Targeting retailers who want to grow their business, KeyStore More is a premium brand that allows retailers to offer customers a more comprehensive range of fresh and chilled products, food to go and local/Scottish products.
Craig Brown, retail sales director at Glasgow-based Filshill, said: "KeyStore More is designed to elevate our offer to enable the most progressive retailers to expand their range and provide more of the products and services that our research tells us consumers want.
"This means an upweighted focus on fresh and chilled products, food to go and access to an excellent range of local and Scottish products – all supported by a bespoke promotional campaign and enhanced by a brand new image that will create consumer interest and add a new dimension to what is already a dynamic retail marketplace.
"We're also tapping into the extensive data at our disposal from our own scanning system, allowing us to gather information on consumer habits in our customers' stores – this allows us to constantly improve category management and product ranging in Keystore More outlets and gives retailers a competitive edge and point of difference over other independents in their area."
Lanarkshire retailer Wilson Rea is one of the latest to adopt the new format.
He said: "When I compared one week in November with the same week in 2016, sales had jumped almost 10%. The expanded range, coupled with a partial refurbishment of the store, has really struck a chord with my customers and we're delighted with the result.

"Customers are commenting on the new look which has a classy, upmarket feel to it.
"It's a really professional image that works well with the way I'm progressing the business."
With 11 stores now converted to KeyStore More, Filshill's Craig Brown is confident that the fascia will strengthen retailers' armoury in Scotland's competitive convenience store sector.
"There's a lot of change in the industry just now and with KeyStore More we can ensure that retailers have the tools they need to increase their profits, secure the best margins and encourage customer loyalty," he said.
Filshill aims to have 20 stores trading as KeyStore More by the end of 2018.