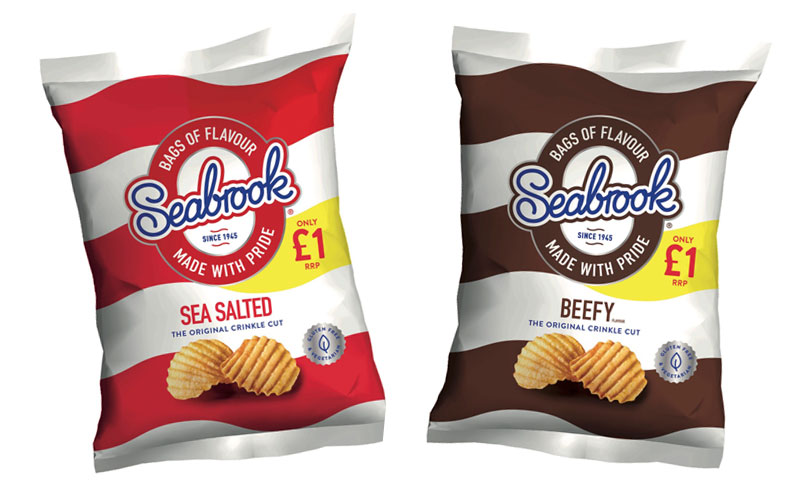 SEABROOK Crisps has been beefing up its PMPs range with the roll-out of new packaging for the brand.
Available in its Crinkle Cut range, Seabrook says its new PMPs have been developed exclusively for independent retailers and the impulse channel.
The first two packs sporting the new look are £1 PMP 6 x 25g packs of Sea Salted and a variety pack containing two each of Sea Salted, Salt & Vinegar and Cheese and Onion.
Seabrook has also rolled out a new £1 100g PMP pack which the crisp maker said reflects the trend towards larger pack formats.
The PMP range is available at a number of cash & carries while the 6 x 25g variety pack has been introduced into Booker and Premier Club.

New POS towers have also been created to display the range, which can be requested from the firm's sales team.
Further support for Seabrook Crisps includes a marketing campaign comprising nationwide activity including radio advertising, consumer PR and a programme of promotions to encourage trial, as well as the launch of a new-look website.
Kevin Butterworth, marketing and international sales director at Seabrook Crisps, said: "The new additions are set to maximise sales for retailers and have been introduced as part of a wider brand refresh, which has seen the introduction of bold new packaging across its entire range to enhance stand out on shelf.
"The new PMPs offer fantastic value for money and strong flavour choices for shoppers, so they're sure to be popular."