Cocktail brand eyes the off-trade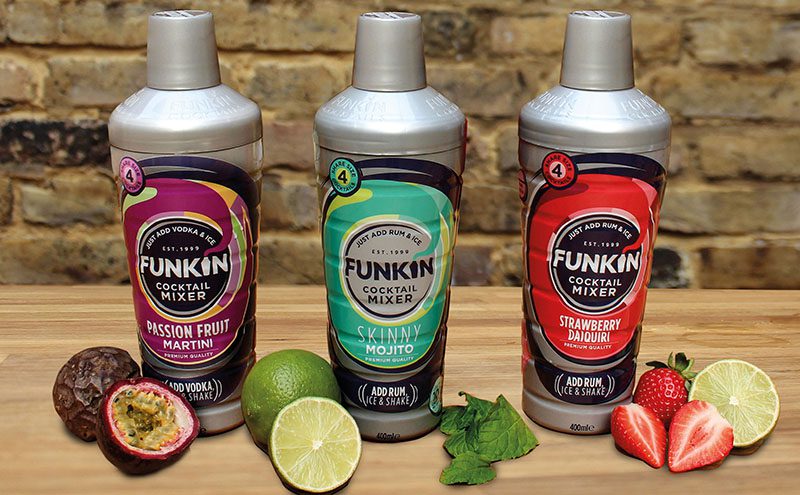 PREMIX cocktail producer Funkin has set its sights on growth in the convenience sector with the release of a new cocktail shaker range.
The new range comprises a trio of cocktail shakers packaged with the ingredients to make one of three cocktails: Skinny Mojito, Passion Fruit Martini, and Strawberry Daiquiri.
Funkin is supporting the launch of its cocktail shaker range to convenience stores with a £500,000 marketing investment which includes a digital advertising campaign and social media activity as well as a national sampling campaign and in-store activity.
The cocktail shakers range is available in 6x400ml cases and have a nine month ambient shelf life.
Andrew King, MD at Funkin, said the firm is leading the way in cocktail innovation by providing the convenience channel with a product that will allow retailers to tap into the ongoing cocktail craze.
"Our new shaker range is designed specifically for the off-trade making it easy for on-the-go consumers to prepare bar-quality cocktails at home quickly, eliminating the guess work.
"With 90% of households buying alcohol and the category being the second largest in convenience, our new range provides a great opportunity for convenience stores to capitalise on the growth of cocktails.
"There is a huge untapped opportunity in convenience for increased spirit sales and we are excited to provide our customers with a point of difference in the spirits aisle.
"This product will allow retailers to increase spirits sales and total basket spend by catering to customers looking for easy entertaining options," said King.