Funkin eyes further growth in convenience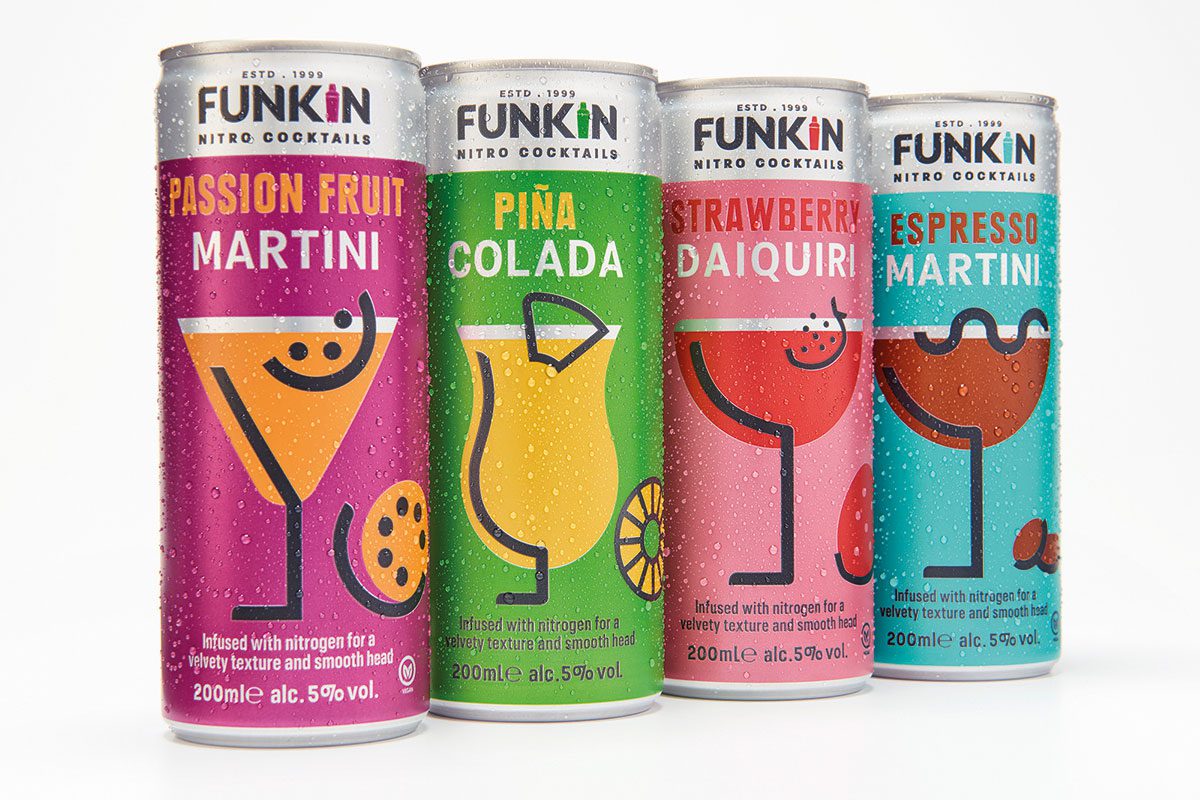 CONSUMER habits that emerged during the pandemic have helped to drive sales for RTD brands, but now retailers will be looking to consolidate those gains in the post-lockdown landscape.
Nielsen Impulse Data for the year to 15 January 2022 revealed that overall RTD sales increased by 3.5% last year, with a large portion of that driven by the cocktail subcategory.
Ben Anderson, marketing director at Funkin, whose portfolio includes a canned cocktail range, said it is "undeniable" that consumer habits have evolved over the past two years.
"We have seen a shift towards entertaining at home that seems set to stay, and the NPD being rolled out to match demand," he said.
Funkin has responded to consumer demand, according to Anderson, who said that as consumers increasingly entertained themselves at home, Funkin grew its portfolio of RTDs to meet demand.
"As a result, Funkin Cocktails is now the number one cocktail brand in the market due to the rapid success of our price-marked packs, Passion Fruit Martini, Strawberry Daiquiri and Piña Colada SKUs," he said.
Following what Anderson described as a successful roll out for Funkin's Nitro Cocktails RTD range, the canned cocktail brand now has its eyes on fuelling further growth – even as the opening up of hospitality venues increases competition for entertainment spending.
Anderson reckons Funkin's selection of canned cocktails are still perfect for consumers looking for a convenient option to pick up on the go, and he reckons the brand's position as something of an upstart will prove to be a benefit.
"The big spirit brands are still performing well when it comes to the RTD category, driving almost £70m of spend into the category in the last year.
"However, as taste preferences continue to change and more consumers seek out products that match their desire for premiumisation, we are seeing more niche cocktail brands pop up.
"With the growing awareness and distribution of the category, we predict these lesser-known brands will soon start to steal market share from the well-established brands.
"As this shift takes place, it's key to think about offering a solid cocktail range to ensure consumers have enough premium options when looking for something special to enjoy on the go," he said.
Taste preferences may drive RTD category trends, but retailers need to know what flavours are going to work well in their community.
According to Anderson, Scottish retailers should ensure they're stocking up on berry flavours, which perform particularly well north of the border. The Funkin marketing manager said that the brand's Strawberry Daiquiri variant has been outselling Passion Fruit Martini in Scotland, despite the latter being the most popular flavour in the rest of the UK.
In light of this, Anderson, suggested Scottish retailers stock up on flavours that are already proven winners.
"It can be easy to be drawn to the latest trend of flavours with exotic names and ingredients in the RTD space, but that can often polarise opinion and confuse shoppers.
"Consumers like to be able to trust the products they pick up in the convenience sector and know that they are getting good value for their money.
"Stocking brands that are popular with the Scottish consumer is key, as well as cocktail flavours that are familiar to consumers from bars and restaurants, such as Passion Fruit Martini, which accounts for one in every five cocktails sold in the on-trade, Strawberry Daiquiri and Piña Colada," he said.