Cigars, accessories and e-cigs the top priorities for destination tobacco retailer following the introduction of TPD2 regulations
SHAWLANDS News has become a destination store for smokers in the south side of Glasgow in the years since it opened in 2008. Owner Tanveer Baber attributes that to his interactions with customers and strict policy on price.
So what changes has he seen in the business in the run-up to the TPD2 deadline? And what opportunities has he identified for the future?
"We're very busy with cigarette customers because we stick to RRP and everyone knows it," said Baber. "All the other newsagents here hate me for it, but the only reason a smoker would go to them is if I'm not open, because they're adding 15p or 20p on every pack of cigarettes.
"You can charge somebody £1.50 for a bottle of Coke and they'll not bat an eyelid, but charge them 5p extra on a pack of fags and they'll freak out."
Though Shawlands News is still doing upwards of £1,000 a day in tobacco sales, the volume of cigarettes sold has dropped significantly. This, said Baber, was mainly down to e-cigarettes.
"We encourage people, when they start moaning about prices and stuff, to go on to e-cigarettes," he said.
"If I have a customer coming in here buying 20 B&H a day, seven days a week, that's £70 a week. If I talk them into getting an e-pen, they'll go to spending £15 a week. That's a huge difference.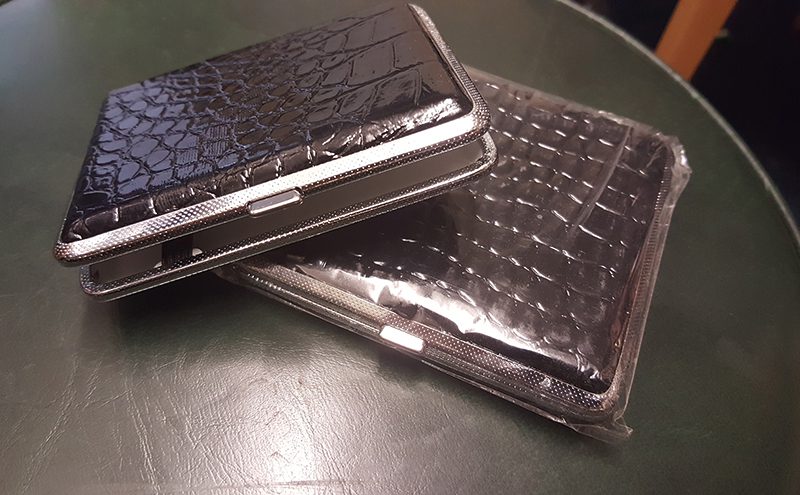 "My staff asked why I would do that, I'm losing £55 a week. But what they don't understand is when I was getting £70 I was making £3 profit. Now I'm getting £15 and making £6.50 profit.
"But don't get me wrong, a lot of people are going on to e-cigs and coming back to cigarettes. It's just not working for them. I've tried it, but it's not for me. I don't fit in with the vaping crowd."
One crowd that is starting to grow, and that he sees great potential in, is cigar smokers.
"There are a lot of young hipsters coming in now, buying Moments and Café Crème. I reckon it's a status thing. People see the smokers and the vapers and they want to be different.
"Plus, they're seeing value for money. The fact you can still pick up packs of five or ten makes them more attractive. I've realised I could be encouraging people to move from cigarettes to cigars. From now on, anyone who comes looking for a 10-pack of cigarettes, I'm going to push them towards cigars."
Since the arrival of plain packs, Baber has begun selling cigarette cases, which he said are doing phenomenally well.
Because customers can't see what I've got on the shelf, my recommendations and advice can have a real impact. Customers are confused, absolutely.
"I saw the opportunity and got some imported from China. They cost me 95p each and I sell them for £2.99. And anybody who's come in to buy cigarettes and complained about the packaging, we've suggested they get themselves a case. Nine out of 10 times they will."
Communication with his customers has always been important to Baber, but he reckons it's going to be of even greater importance across the convenience sector going forward.
"We can control what we're selling now. And because customers can't see what I've got on the shelf, my recommendations and advice can have a real impact," he said.
"Customers are confused, absolutely. They don't know what's going on. That's why that relationship is so important."