Report reveals different tastes and habits
SCOTS buy more soft drinks than the average GB shopper according to the latest category findings by researcher Kantar Worldpanel.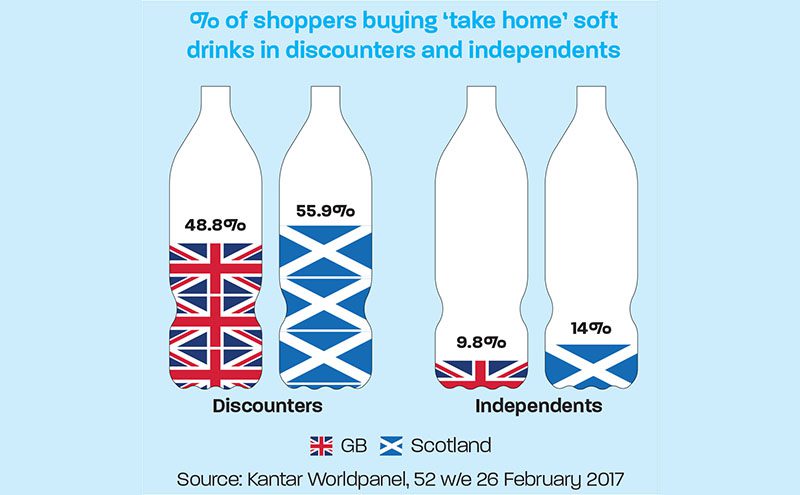 The focus on take home soft drinks sales for the 52 weeks to 26 February values GB soft drinks sales at £3.4bn which it says equates to 3.2% of all grocery take home sales.
And in Scotland, with a value of £381m, the category is growing faster than in the GB as a whole.
GB growth is reported at 0.2% but in Scotland sales are growing at 2.2%.
Average shopper spend in the category has fallen marginally to £127 a year across Britain, but Scottish shoppers are spending, on average, £20 a year more than the national figure.
According to Kantar, Scots buy soft drinks to take home 56 times in a year which it says is eight times more than the GB average.
Amanda Brown of Kantar says we also buy different drinks in Scotland. She explained: "Other flavours of fizzy drinks beyond lemonade and cola is the biggest sub-category with 28.6% share of spend. This, in the main, is driven by Irn-Bru.
"Cola remains the biggest category in GB."
Brown added that soft drinks sales are performing well in Scotland's independents, with growth in the year of 4.6% and an increasing number of shoppers buying in independents an average of 18 times per year.
"The big four supermarkets account for 68% of take home soft drink sales in Scotland," she said. "What is different in Scotland is the number of shoppers buying soft drinks in Aldi and Lidl as well as in the independent sector."
Kantar data also revealed that compared to the GB as a whole, 4% more Scottish shoppers will buy soft drinks in smaller independent stores.