Lactalis Nestle launches Aero mousse range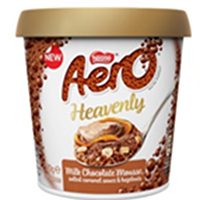 CHOCOLATE bar brand Aero has floated its way into the chilled desserts category with the launch of Aero Heavenly.
Targeted at adults, the new mousse is available in two flavours, milk chocolate and salted caramel, with each available in 170g pot.
Francois Boulard, senior brand manager at Lactalis Nestle Chilled Dairy reckons Aero Heavenly is ideally suited to capitalise on the evening sharing occasion.
"The evening sharing occasion is becoming hugely popular as more consumers look to treat themselves after dinner," said Boulard.
"We want to ensure our varied product range responds to this need and brings something truly revolutionary to the chilled desserts aisle. There is a clear gap in the market for a new and exciting treat for the evening occasion – one which we aim to fill with Aero Heavenly.
"With its unique combination of ingredients, we hope this new offering will strengthen our current chilled desserts portfolio and add tremendous value to the category as a whole, offering truly indulgent taste satisfaction for shoppers".