Artisanal apple cider will be a key category driver over the next four years, according to Heineken, and it says it has launched Bulmers Orchard Pioneers to bridge the gap between mainstream apple cider and more premium cider.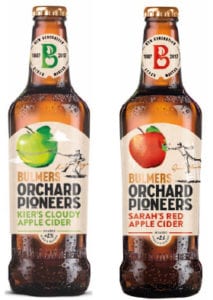 The range is made up of two varieties, Sarah's Red Apple Cider and Kier's Cloudy Apple Cider, both available in 500ml bottles and 4x330ml can packs.
Heineken cider director Emma Sherwood-Smith said: "As the UK's number one cider producer, we are committed to driving the cider category's success for our customers.
"Bulmers Orchard Pioneers will expand drinkers' repertoires and act as a stepping stone into premium artisanal ciders, adding value for the retailer and category."