In its second Convenience Conversation, Scottish Grocer invited a select group of leading retailers and representatives from food, drink, wholesale and refrigeration firms to Dundee for a discussion on the challenges and opportunities posed by the chilled food and drink category.
THE second Scottish Grocer Convenience Conversation brought together retailers, suppliers and equipment manufacturers to discuss chilled food and drink.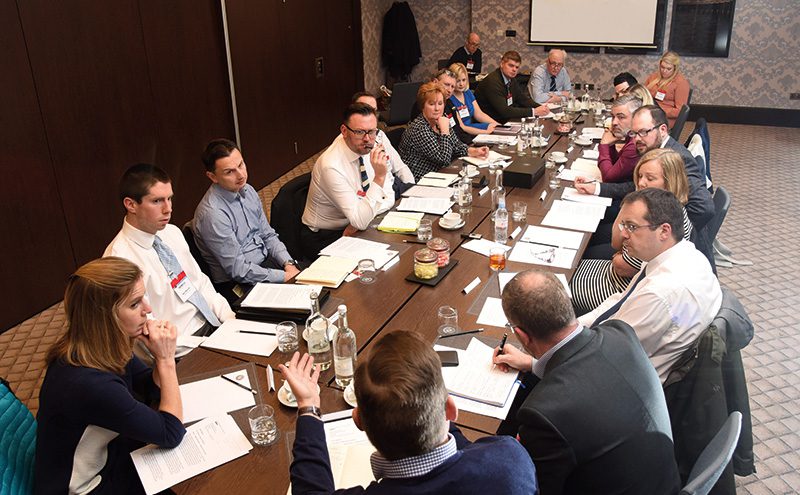 Representatives of AG Barr, Coca-Cola European Partners, Strathmore Foods and Müller joined category experts from Booker and Capital Cooling to discuss developments in the chilled category with retailers Harris Aslam of Eros Retail, Keith Fernie from David's Kitchen, Keith Whyte from Mitchells in Inverurie, Scott Graham from McLeish in Inverurie, Sheila Townsley from Scotmid Coupar Angus and Dennis and Linda Williams of Broadway Premier, Oxgangs.
The discussion, chaired by Scottish Grocer editor John McNee, began with a look at what is happening now for chilled food and drinks within the convenience sector.
Gerry Simpson from chilled and frozen equipment manufacturer Capital Cooling said that in the last year the company had seen growth in demand for cabinets with doors.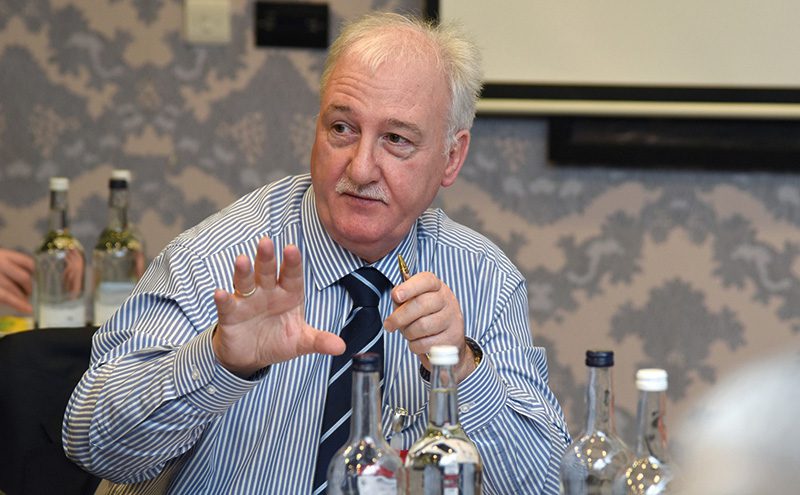 He said: "I'd say that's the biggest change over the last 12 months. From a manufacturer's point of view our biggest challenge has been dealing with what's happening around Brexit, the pound against the euro. We try to keep our costs as competitive as possible and our main challenge is trying to offer the end user a value-for-money solution which allows them to keep up-to-speed with the market."
Research shows food to go to be worth £2.5bn this year and rising by 5.8% by 2021, and the independents play a big part in that.
– Keir Stewart,
AG Barr
Looking at the growth of chilled foods against growth in soft drinks, Gerry said: "I'd say there's been more of a growth on the soft drinks side.
"We have seen a noticeable growth in meal deals and have trialled a specific model for meal deals through Costcutter that has proved to be fairly successful. It can sit at the end of an aisle for a point-of-sale position."
Keir Stewart from AG Barr said food to go offered an opportunity for growth for soft drinks in c-stores.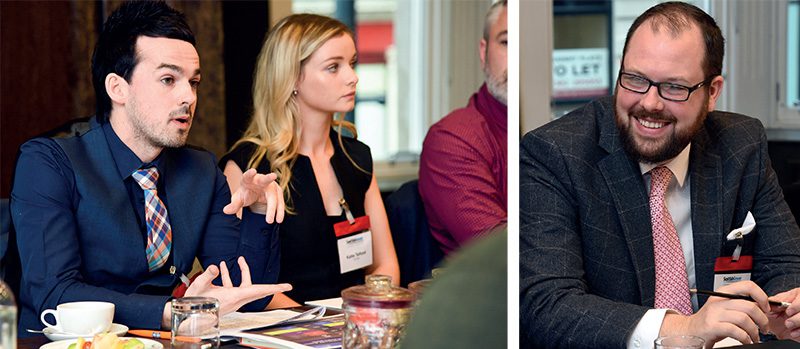 He said: "Research shows food to go to be worth £2.5bn this year and rising by 5.8% by 2021 and the independents play a big part in that, so if the independents get the shop right for food to go, they are going to take advantage of that."
Norman Weir from Coca-Cola European Partners said: "From our perspective convenience is still a huge opportunity.
"A big issue for us within convenience is the proliferation of SKUs. You tend to find there are hundreds of soft drinks available in a shop, however there's a lot that everyone stocks that just add nothing back."
Premier retailer Dennis Williams stressed that pack size is important, particularly for water: "Children now are not allowed to take juices into primary schools so there is a great opportunity there for a small size of water that fits into their lunchbox."
Scott Graham said around 30% of his business is food to go and added: "Meal deals drive additional spend.
"If someone is coming in for a sandwich then hopefully they are going to pick up two or three other things.
"We've split it into missions for different times of the day. The big one I can see developing is snacking."
Martin Swadling, brand director of Londis for Booker said there were two challenges to overcome for the independent sector. "Firstly there is the fear factor of really committing to doing a great job on fresh," he said. "The second one is helping retailers find the space to do it.
We want to help retailers free up the space, get the equipment in and offer the solution that the customers undoubtedly want –they want to buy it fresh and they want to buy it locally .
– Martin Swadling,
Londis
"We want to help retailers free up the space, get the equipment in and offer the solution that the customers undoubtedly want – they want to buy it fresh, they want to buy it locally."
Neil Macrae of Strathmore Foods said his company is working on smaller packs for food to go. He said turnover for the company's McIntosh ready meals has almost trebled in c-stores in the space of 12 months and put that down to changing shopper habits and the fact that Strathmore has started to do more with some wholesalers. But he added that shelf life is presenting a challenge for the brand.

Martyn Parkinson, brand director at Premier, said his group is encouraging retailers to invest money and space in chilled.
He said: "We talk about a 'reason to shop' within the Premier stores. We know chilled food actually attracts a lot of repeat business."
Scott from McLeish brought up the subject of brand owners' relationships with independent stores and all the retailers in the room agreed that it is much preferable to have face-to-face meetings with reps rather than phone calls.
Linda Williams said: "It is so important to get a rep into your store and building a long term relationship."
• John McNee asked the panel if they thought it was important to have a locally-supplied chilled range.
Linda said: "A lot of it depends where you are. For us it's not so relevant. Where we are price is all that really matters to our customers."
But she continued: "Scottish is important and we stock Hall's sausages, we stock their entire range, which is relatively local to us and our customers are not interested in any other sausages."
Harris Aslam said that in one of his group's stores they had recently changed to a local bakery supplier and increased bakery from 4% of store sales to 12%.
It can be difficult getting advice on chilled. It's a category you have to manage yourself.
– Keith Whyte,
Mitchells
He said: "I completely agree that price point is crucial in terms of demographic, but at the end of the day consumers will pay for quality. It's about striking that balance."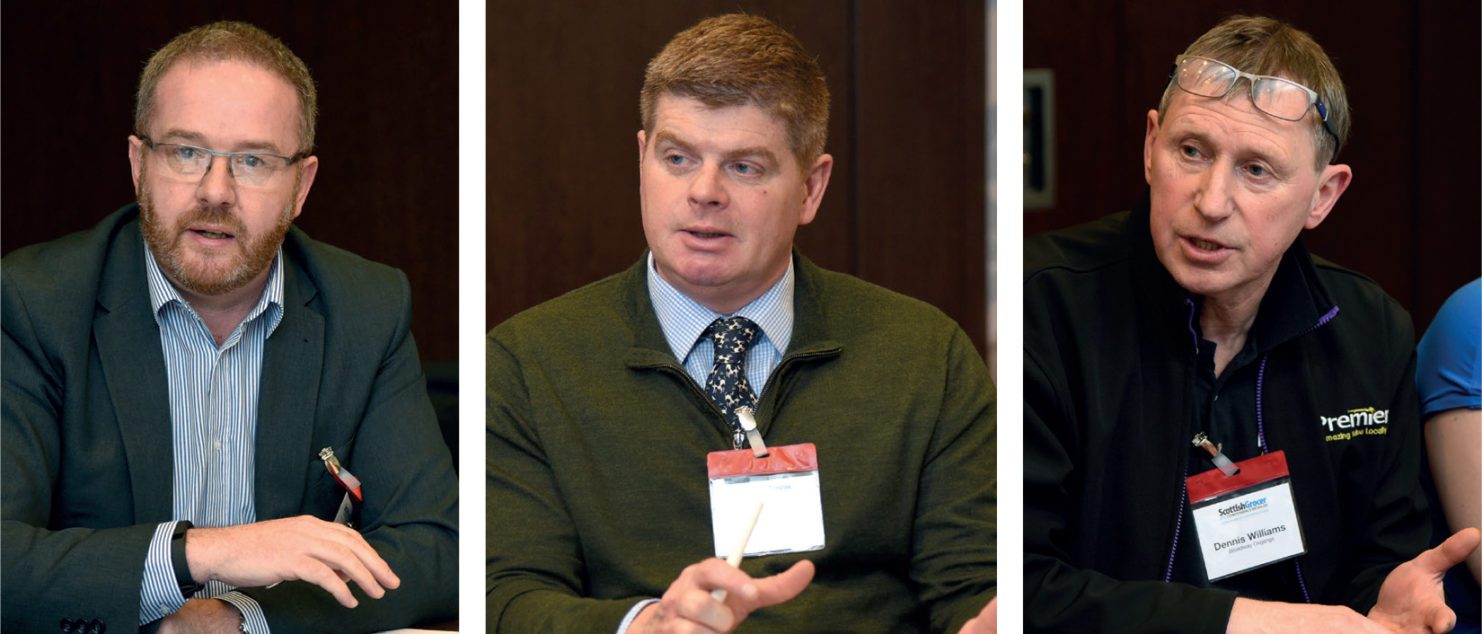 Keith Whyte added: "For new products form local suppliers we often take them on sale or return. Or sometimes we'll give them a bit of shelf space, tell them to merchandise it and do a deal at the end."
• The discussion moved on to the practicalities of offering a good chilled range. The first challenge identified was waste.
Keith Whyte said: "As well as the cost of buying, installing and maintaining equipment, wastage is a big challenge, but if you are running at zero waste you are clearly missing out on potential sales.
"It's difficult because of shelf life, the amount of different promotions and the number of SKUs. Also, it can be difficult getting advice on chilled. It's a category you have to manage yourself."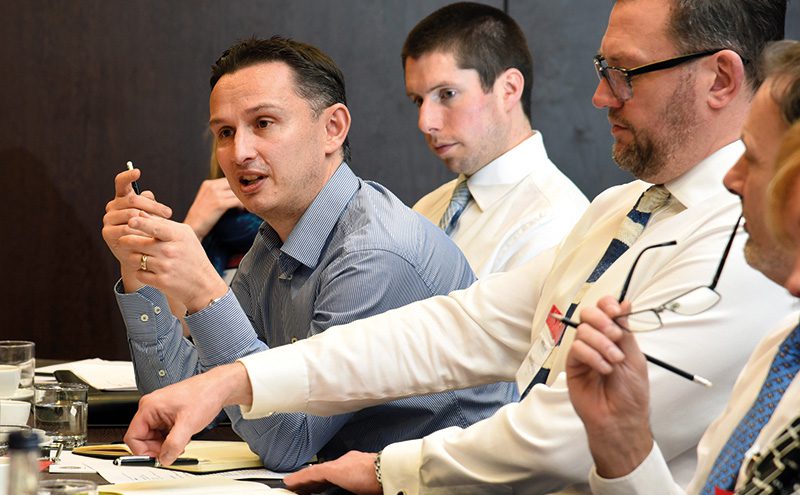 Martyn Parkinson said Premier works with retailers to design the layout and flow of a new or re-fitted store or on how to make it work with the equipment that's already there to get the best out of chilled food and drink.
He said: "In an ideal world you'd walk in to the chilled offer."
Linda Williams said: "A lot depends on the architecture of the store. We've got pillars everywhere which means we could not get doors on our chill cabinets that open out so we had to get sliding doors."
Gerry Simpson said: "A lot depends on what the end user is looking for. If you don't have room for customers to pass through the aisle when the door is open, go with sliding doors. Generally the cost isn't any different."
Keith Whyte said: "We had a refit about seven years ago and asked customers what they'd prefer. They said not to go with doors, that they are a nuisance."
Harris said it is easier to merchandise without doors but Gerry explained the cost savings in having doors.
Linda agreed that energy efficiency is crucial. She said: "Running costs are a huge issue for retailers. Because our costs have gone through the roof on everything else, when thinking about putting another chiller in you really have to do your sums and ask will it do enough business to justify the extra energy costs."
Martin Swadling said Booker is running a scheme called 'save more, make more' to help retailers identify where they can reduce costs, for example with energy and were they can increase profit, such as with food to go.
Harris said: "It's important to decide what the bottom line is and work from there and create a point of difference. For example, one of our stores has strawberries that instead of saying 'locally produced' specify that they were produced 'only 3.6 miles' from the store."
• John McNee moved the conversation on to trends and specifically asked if the retailers were still seeing demand for meals for tonight.
Sheila from Scotmid said a Co-op dine in for £10 deal had suffered when the law changed to mean wine had to be displayed in a different part of the store. Neil from Strathmore agreed that attempts at an evening meal deal didn't really work but ready meals for evening are selling well.
Linda said she sees two distinct shoppers looking for 'something for tonight'.
"Because people are shopping in supermarkets less often you have people coming in to buy what they are going to eat that night," she explained.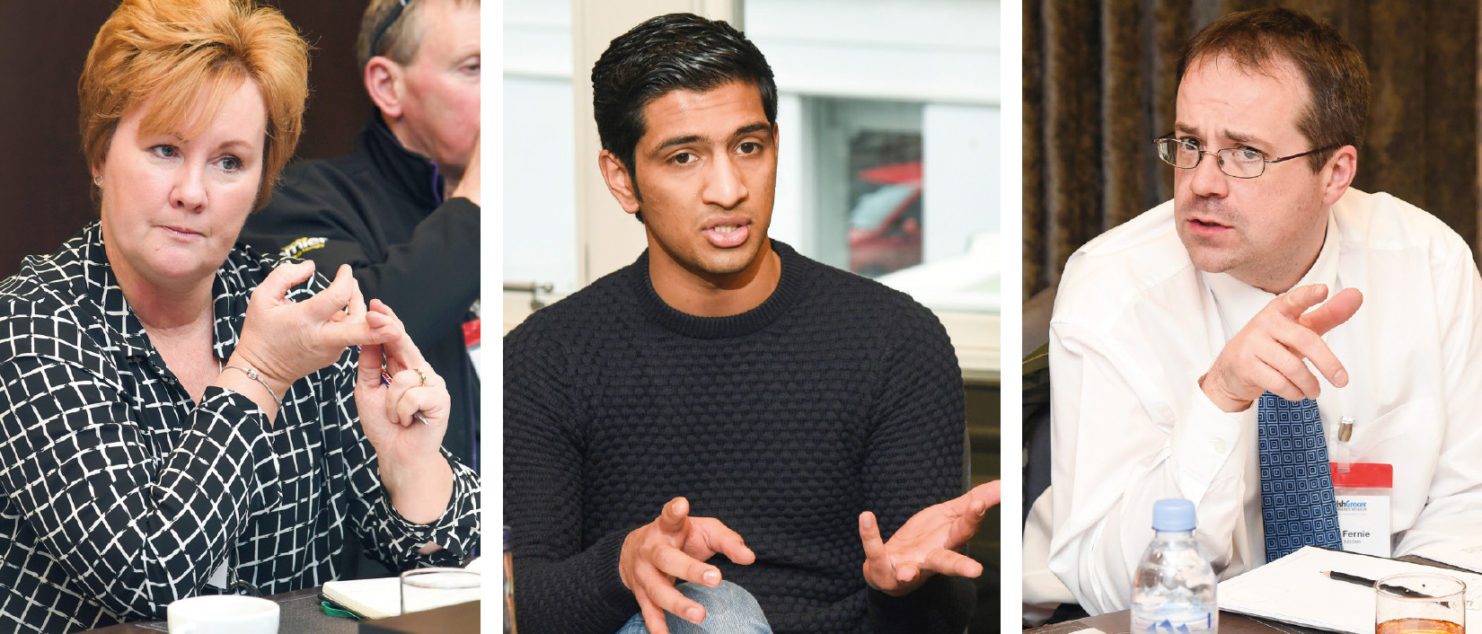 "You have people who want ready meals, who don't want to do anything, and you have people who want to cook. There is a cross over where you have prepared ingredients, like prepared vegetables or Mash Direct products like potato croquets. That's an area of growth."
All the retailers agreed that displaying parts of a meal together, like rice alongside meat for a curry and a cook-in sauce, is good merchandising but they also agreed that space then becomes an issue.
Linda and Dennis have found a solution that works well in their store. Linda said: "It's a free-standing chiller that sits in the middle of our chilled section, and we put special offers in that. It has been phenomenal for volume.
"For example, this week we are doing half-price pre-packed mince and will sell ten to 20 times normal volumes."
The conversation moved on to the importance of positioning products in store. Renzo Mozzachiodi of Müller Milk & Ingredients identified a challenge of getting milk, and flavoured milk, into food to go.
He said: "When you move to food to go versus siting flavoured milk in the milk fixture you're talking about a 50% increase in your rate of sale.
"If you're on a food-to-go mission you're not going to go to the milk fixture to buy flavoured milk."
Keith from David's Kitchen said they had experienced similar uplift by moving their flavoured milk. He explained: "What actually brought the move was the cold coffee. We moved flavoured milk from our milk fixture to the soft drinks chiller next to food to go and we've added at least a case a week to sales."
From a milk point of view, Renzo added, one thing that has worked well in some convenience outlets was doing a two-for-one offer on 4pt packs of milk.
He said: "Only 6% of shoppers actually drink milk from a glass. The rest of it they add to things. Changes in market dynamics are unlikely to lead to more milk being added to cereal or hot drinks. That said in convenience two-for deals work and bring shoppers into store."
Keith from David's Kitchen said they do a similar promotion on milk and about 45% of shoppers go for the multibuy.
• With chilled space at a premium, the panel agreed, it is not worth carrying a product that is not selling.
Katie Telford of AG Barr said that with people switching from sugary soft drinks to water it is important to position water and healthier drinks properly.

Her colleague Keir said some consumers are moving from sugary soft drinks to water and suggested this is one step closer to the consumer drinking from the tap and not buying anything at all.
Katie said: "It is important that products such as our Rubicon Spring, in a sub-category between soft drinks and water, are displayed beside the water to emphasise their health credentials.
"This will avoid customers having the perception that they are drinking something that's bad for them. On initial impact, when you first look at it, you could think it's just another fizzy drink so making sure it is in the right place in the chillers is very important."
When it comes to blocking of products, Robert Kelly of CCEP said EPOS data is important and explained: "Chilled space and how you planogram that is key to driving more sales. We can work with stores where we'll take your EPOS data then plan your cabinet to how you actually sell, to make sure your core range has enough facing.
"It's a category-based approach, because if we can grow the category everybody wins."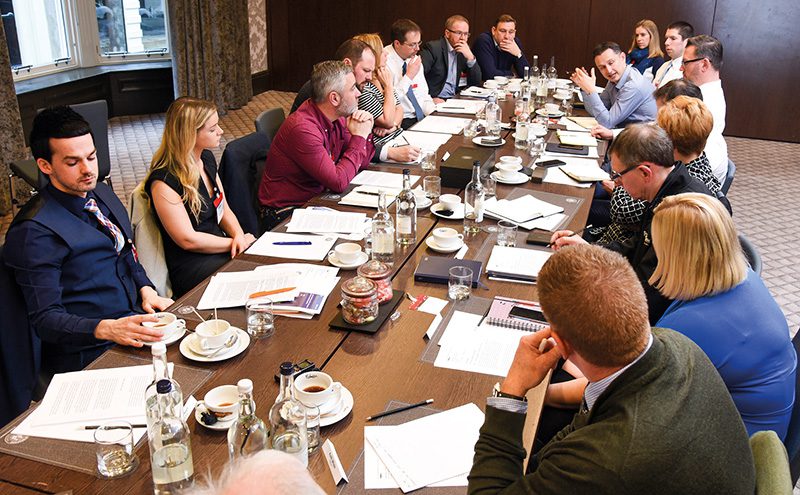 • Looking ahead, the discussion turned to planning a strategy for chilled.
Harris said: "It's always about what's the next step, what's the next innovation. In terms of chilled promotions and merchandising we haven't settled on a strategy. For us it's a constant learning curve."
Linda said: "Reps are so important to independents."
Dennis added: "A lot of suppliers are reducing reps because its saves money from the bottom line but you lose so much. You lose SKUs and depth of range and you lose space.
"The minute the rep comes back in you gain all that back."