Contract renewed between coffee and fuel brands.
ON-THE-GO coffee brand Costa Express has renewed its UK contract with Shell for a further five years.
The signing of the contract marked five years since the partnership began in 2011, shortly after Whitbread acquired Coffee Nation for £59.5m. Following a rebrand of the 900 Coffee Nation machines, Costa Express has grown at significant pace, installing on average over 70 coffee bars every month.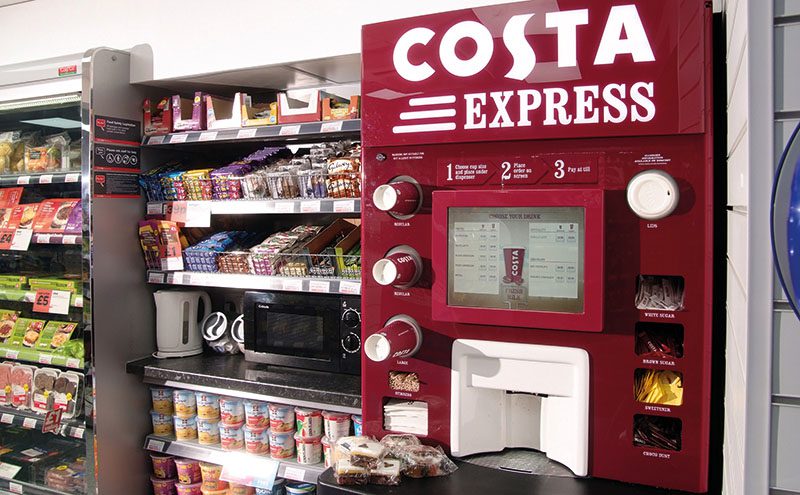 In the UK, Costa Express has 740 coffee bars in 536 of Shell's branded service stations, each selling over 70 cups per day.
Murray McGowan, managing director at Costa Express, said: "We're delighted to be extending our partnership with Shell, which was one of Costa Express' first partners. The Costa Express brand perfectly complements the Shell forecourt model, supporting the brand in providing its customers with a high quality and consistent offering and the best coffee on the go. We're looking forward to growing our relationship with Shell, both in the UK and in our international markets over the coming years."
Mike Hominick, Shell UK retail marketing manager, said: "Shell service stations in the UK serve five million customers a week and our renewed relationship with Costa Coffee means customers can enjoy a fantastic cup of coffee when they visit.
"Coffee is now one of our most popular items. The relationship between Costa and Shell has already grown our sales to over 18m cups a year and we are excited about our joint plans for further growth. Serving Costa coffee is one of the ways we are expanding the role of our service stations in the lives of customers, offering great quality fresh food and coffee to customers who live their lives on the move."