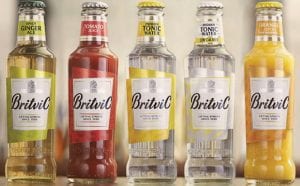 BRITVIC has re-launched its Britvic Mixers and Juices range ahead of the Christmas season.
Available to retailers from the middle of last month Britvic's tonic water, along with the rest of the range, has been packed in a new, bespoke bottle that the firm says emphasises the brand's British heritage. Britvic Mixers are available in 125ml bottles and 200ml bottles, and in 150ml cans in Indian Tonic, Low Calorie Indian Tonic, Ginger Ale, Orange Juice, Tomato Juice, Pineapple Juice, Grapefruit Juice, Cranberry Juice, Soda, Bitter Lemon, and Lemonade.
The mixers are in single bottles, packed in cases of 12 and 24 for retailers.
Annabelle Cordelli, brand director at Britvic Soft Drinks, said: "The re-launch of our Britvic Mixers and Juices range marks a real commitment to quality for us. We've listened to our customers and shoppers to develop our great-tasting tonic."