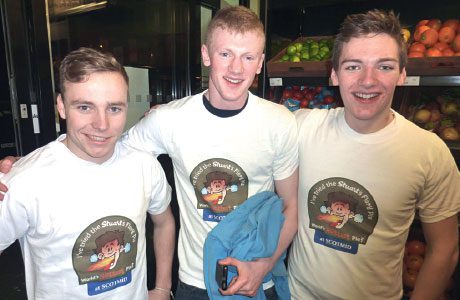 IS independent co-operative Scotmid going pie-eyed?
The retailer invited brave consumers in some of its stores to 'try a Fiery Pie'.
The pies, made by baker Stuart's of Buckhaven, contain phaal curry, one of the hottest available, helped along in the heat department by a fair portion of chopped mixed chillies – designed give the snack "an extra intense burning quality".
Fiery Pie events ran last month in Scotmid's Warrender Park, Marchmont, Westburn, Pilrig and Gorgie Road branches, all of which have Stuart's bakery counters in store.
The contest also visited Haggs, Bonnybridge and Bo'Ness. The brave souls who managed to consume an entire pie won a Stuart's Fiery Pie t-shirt.
Stephen Brown, bakery and local sourcing manager for Scotmid, said: "We were delighted to be working with Stuart's on this exciting food challenge.
"The Stuart's Fiery Pie is not for the faint hearted. Eating a whole one would be a very big undertaking!"
But it's not just curry-lovers who are targeted in Scotmid's big pie push.
Health-conscious consumers will be able to have their pie and eat it after Scotmid began stocking a low-fat Scotch pie.
Approved by Scottish Slimmers, the pie, produced by McGhee's Bakery of Glasgow, is said to have around half the fat of a regular Scotch pie.