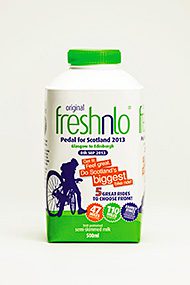 MULLER Wiseman Dairies expects consumer interest in health and wellbeing to grow through 2014.
Its Freshnlo brand was the UK's first semi-skimmed milk, and the firm says Freshnlo has been associated with health and nutrition since its launch in 1981.
Sandy Wilkie, Müller Wiseman Dairies' sales and marketing director said: "We were thrilled to support Freshnlo Pedal for Scotland once again for its fifteenth year, which saw over 10,000 riders take part in the iconic ride from Glasgow to Edinburgh in September. Our involvement continues to make perfect sense as Freshnlo is not only delicious but nutritious too."
The firm reckons there's a challenge but also an opportunity for retailers and dairy companies in encouraging consumers to see milk as an on-the-go drink.
Wilkie said: " The Müller Wiseman 250ml products are ideal for retailers to place in the sandwich or soft drinks fixture – they're a delicious and nutritious on-the-go option and are the perfect size to grab at lunchtime or when out and about.
"Milk is a commodity product and is purchased at all times of the day. It is the number one top-up mission product in convenience therefore it is important to ensure that the milk fixture is well stocked and can cater for every taste," he said.