ONE of Scotland's most-awarded c-store retailers has opened the first of the new Booker-supplied Family Shopper discount symbol stores in Scotland. Jen Bowden visted High Blantyre in South Lanarkshire to find out more.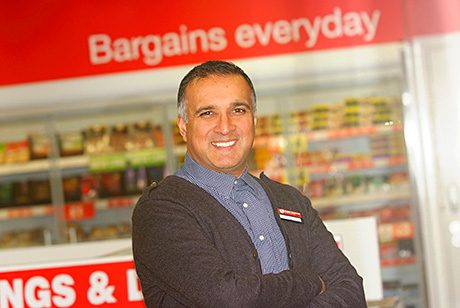 MAIN Street in the former mining town of High Blantyre is home to the first of Booker's Family Shopper discount stores in Scotland.
The new shop, launched by Shahid Razzaq (known to his customers as Mo) who also owns the multi award-winning Mo's Premier – a traditional convenience store in nearby Blantyre, opened its doors just ahead of the Christmas season on 15 November. And Mo told Scottish Grocer he had been delighted with the launch, which had seen an excellent response from local consumers and good levels of sales even though the store had still to have its alcohol licence issued.
Booker tested its new style of discount local store – designed to run with a smaller product range than Premier symbol stores and to have a high proportion of value lines, round pound price points and promotional deals on branded goods – in the English Midlands, and officially announced the new chain in spring last year.
Scotland's first Family Shopper is part of Mo's development of High Blantyre's old Whistleberry Hotel. The project, which saw Mo make a substantial investment, included major building work followed by shopfitting carried out by Nabco, has transformed the 3,500 sq ft building and delivered a bright, modern ground-floor shop in the heart of the local community. The development also includes seven first-floor flats.
The new Family Shopper is open 7am-10pm, seven days a week and has a total staff of 13 headed by Mo, who was working full-time on the business in the launch period, and supervisor Mandy Strachan.
With a Costcutter nearby, and Asda and B&M less than two miles away, the discount c-store has no shortage of established competitors. But by the time Scottish Grocer visited, two weeks after the opening, it had already gained regular customers.
"The locals have really taken to the concept," Mo said. "There was a carer who popped in the other week for a few things and left the girl she was looking after in the car. After a few minutes she went and got her and they did a full shop. The carer said she used to take her clients to B&M but now brings them here."
In those early weeks the basket spend in the Family Shopper was roughly on a par with his Blantyre Premier store. But Mo predicted that when the alcohol licence became effective in December, turnover in High Blantyre would be pushed above the amounts taken in the first week.
And he's convinced the discount format suits the local community.
"This is a working area, so the pricing means we do well" said Mo.
"People know they can get a full bag for a fiver and are coming from Hamilton and outlying areas to visit the store."
The project came about after Mo attended a Premier Stores development meeting in Wolverhampton, where Booker was showcasing one of its first Family Shopper units.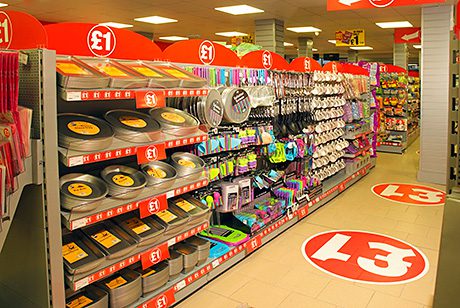 The idea of a discount store for the convenience sector appealed to Mo. Back in Scotland he started looking for properties that would suit the style of store in areas with demographic characteristics that Booker had identified as especially appropriate for the concept.
Once the Whistleberry site was secured Booker was called in. Retail development manager Derek Ralston oversaw the project and continues to be involved with the store.
By the end of July work was under way. It was a big job on a tight schedule, Mo wanted to be open before Christmas.
A retaining interior wall had to be pulled down to create a more open space and that, in turn, meant supporting pillars had to be installed. The intention was to provide an immediately attractive shop inside and out. It meant significant work had to be carried out on the exterior of the building. The front wall was demolished and rebuilt by a local builder, Top Class from Coatbridge. The small front windows were replaced with large double-glazed units, and the area outside the shop was laid with tarmac and made into a neat car park.
"We fixed the outside because that exterior appearance is what consumers judge the store by," said Mo.
But there was plenty of work carried out inside, too. Originally split level, the floor was evened out into a gentle slope to enable easy access for everyone. Flush LED lighting was installed all through the store.
Double-glazed Eco Dallas chiller units line the best part of two walls. One run holds fresh produce and chilled foods, the other, at the time of the launch, contained soft drinks but was also intended to take alcohol lines once the licensing processes were completed.
The chilled units containing non-perishable items are timed to switch off at night to conserve energy. The equipment's efficiency features are said to achieve 40% cost savings. And that, as well as making economic sense, is important to Mo, the reigning Scottish Grocer Sustainable Retailer of the Year, on environmental grounds.
The 12 freezers at the back of the store are Novum low-energy models, so also play a part in minimising the shop's fuel costs and carbon emissions and Mo has organised a dedicated recycling system, with separate bins for cardboard, plastic and general waste. There's been significant investment too in security equipment. A comprehensive system of digital cameras feeds images into a server in the Family Shopper's office. The computer also controls the sound system including the music designed to entertain consumers. Mo was creating his Christmas playlist when we visited, but said the usual choice would be chilled music on weekdays with something more upbeat on Saturdays.
Stock for most categories is supplied by Booker and includes many value lines, a substantial selection of frozen goods and branded products. However, there is a distinct local flavour to the bakery range, much of which is sourced from nearby baker Barry Douglas in Burnbank, Hamilton.
Bakery is one of the most popular categories, so bakery products are placed in several in-store locations. The trail starts with hot pasties, pies and freshly baked pastries positioned next to a hot drinks machine just inside the entrance. The far left aisle leads to an extensive bakery range at the back of the store and there are two bins dedicated to rolls. Cuisine de France provides bake-off lines that are finished in store twice daily.
Soft drinks are also popular with store customers. In the two weeks following the launch the shop got through 200 cases of 2-litre bottles of Irn Bru.
A large homeware section down the left centre aisle, with most items £1, had seen de-icer, air-fresheners and batteries flying off the shelves, Mo said.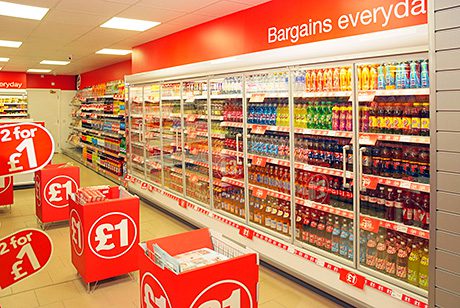 The shop's floorplan, promotional bay positioning and shelf layouts are all designed to maximise impulse purchases. Newspapers and magazines are positioned at the right hand side of the store at the rear, to encourage shoppers to make their way through much of the shop. Milk is located at the centre of the back wall, so that consumers looking down the aisles from the entrance can spot it easily.
The low freezers are arranged in clearly signposted clusters that group together the different components of typical family meals. Large signs highlight the discount prices and signpost different product sections. The pillars are used as miniature display points and as extra basket stands.
Mo hasn't quite finished yet. After high demand for bakery products, the freezers that store the dough and the bake-off oven are to be replaced with bigger models. "That's how we work in the store," he said. "We're constantly tweaking things. If it's not right, we change it. My ethos has always been to aim for 100%."