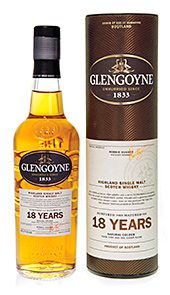 AS duty increases and other pressures cause spirit prices to rise drinks producers, large and not quite so large, have been giving greater importance to fractional sizes of spirits bottles.
More recently many premium spirits have become available in gift packs in the fractional sizes.
Independent Scotch whisky firm Ian MacLeod Distillers, whose brands include Glengoyne and Tamdhu malts and Isle of Skye 8 year-old blended whisky, has a range of its Glengoyne malts in 20cl size, complete with gift tube and designed to provide gifts at different prices for those after a present for the whisky lovers in their lives.
Glengoyne 10 year-old 20cl is RRP £15.99. Glengoyne 18 year-old 20cl is £18.99 and the Glengoyne 18 year-old is £25.99.