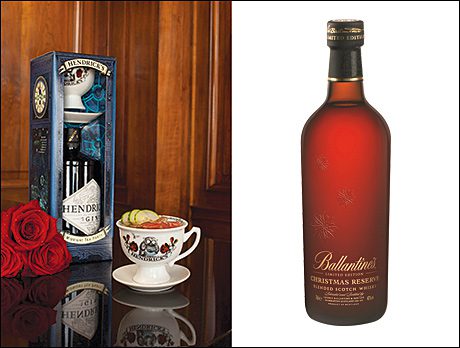 WHETHER it's fashion, timepieces, malts, or vodkas premium brands have never been more important. That's the festive message from drinks firm Pernod Ricard UK, which is urging retailers to use the festive season to upsell across the spirits category.
However the company's research, conducted over the festive season in 2012, suggested shoppers' attempts to trade up were hampered by "bland, uninspiring and crowded" aisles, where they grabbed their purchases as quickly as possible. And c-stores were said to have a poor range of spirits and too few promotions.
Pernod Ricard sees festive presents as a big opportunity for c-stores – Nielsen reports that 50% of gifts are bought in the three weeks before Christmas, and PRUK says 28% of shoppers are prepared to buy spirits as a main gift. Pernod Ricard researchers found that, while shoppers used supermarkets for major spirits gift purchases, they relied on c-stores to find spirits – usually whisky – for small or last-minute gifts.
No one, the researchers found, wants to look cheap when they arrive at a party. And that, Pernod Ricard argues, is a strong argument for stocking fractional sizes of premium spirits. Its brands available in 35cl bottles include Absolut and Havana Club.
In its annual market report, produced earlier this year, First Drinks identifies non-cream liqueurs, spiced rum and gold rum as the spirits to watch out for.
Vodka, it notes, over-indexes in Scotland, where there are 1.4m drinkers. It is also the most regularly bought spirit in convenience, accounting for nearly 50% of all spirits purchased.
First Drinks suggests: stocking fractionals (especially of premium brands); making the most of special occasions such as New Year; stocking cocktail ingredients and displaying them prominently; and highlighting the best brands for gifts.
First Drinks estimates purchases of alcohol for gifting in the convenience channel to be worth £138m, up 12% on last year. It identifies malt whisky, blended whisky and vodka as the most popular presents, with whisky accounting for over half of all spirit gift purchases.
Rum is said to be growing, with Scots favouring spiced varieties over other flavours and over white or golden rum. Boutique brands of gin, including First Drinks own Hendrick's are booming. Premium gin is now worth £56m, up 27% on last year; there have been 22 new launches in the off-trade in recent years. "Gin is no longer a drink for the older generation," the First Drinks researchers say.