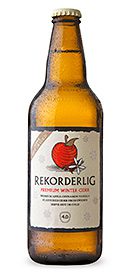 SEASONAL special from Sweden Rekorderlig Winter Cider is, says the brand's UK distributor Chilli Marketing, back by popular demand and set for its biggest year to date.
The winter drink from the Rekorderlig stable is an apple cider flavoured with cinnamon and vanilla and is designed to be drunk hot or cold.
For the first time, Rekorderlig is running an advertising campaign for the winter flavour, on which it plans to spend £2m at a time when the category is traditionally quiet.
The campaign running across lifestyle, action sport, fashion and music media began when Britain's clocks were moved back on 27 October. The flavour will be available until March next year.
The digital marketing activity highlights Winter Cider and features professional snowboarder Chris Sorman, a member of the Rekorderlig Collective, shown performing urban tricks and flips, shot in Rekorderlig's native Sweden.
Quoting Nielsen research over the 2012 festive period Gemma Copping, marketing director at Chilli Marketing, said last Christmas Rekorderlig Winter Cider had the highest rate of sale of any flavoured cider in the off-trade. Leading up to the launch, confirmed stockists for Winter Cider included convenience stores and independent retailers as well as three major supermarkets.
Sainsbury's will stock a special limited-edition Christmas pack, containing a Rekorderlig half-pint glass plus 500ml bottle, in Rekorderlig's seasonal ice blue and snowflake design.
Copping says Rekorderlig Winter Cider has been instrumental in extending what was perceived to be a summer drink into a year-round success. Nielsen also showed, said Copping, that, as well as delivering the highest rate of sale of any flavoured cider in the off-trade over the 2012 Christmas season, the brand's UK off-trade value sales were up by 113% year-on-year, making Rekorderlig the fastest growing cider brand in the off-trade.