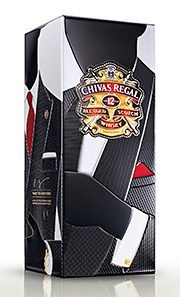 JUST in time for Christmas, deluxe whisky brand, Chivas Regal, has joined up with Savile Row tailor, Patrick Grant, to launch a gift tin containing its 12 Year Old Scotch whisky.
The tin is inspired by Patrick Grant's men's suit designs and supports Chivas Regal's ongoing Made for Gentlemen campaign.
The box reflects the brand's partnership with the Savile Row Bespoke Association, displaying a silhouette of a modern man dressed in a sharp suit.
The brand has also developed a new collection of cocktails inspired by Savile Row's reputation for craftsmanship: the Chivas Three Piece, the Slim Lapel and the Cocktail Cuff.
The limited-edition pack is now available in grocery and impulse outlets at Chivas Regal 12 Year Old's standard RRP of £27.49.